By
Erika Winters
At the 2013 JCK Luxury jewelry trade show, everything glitters. So as you walk through the shimmering landscape, it's easy to be blinded by the hundreds of booths beckoning to you with some of the most dazzling diamonds you'll ever see–all in one place. But in that gorgeous sea of jewels, one magnificent booth held court, attracting both new buyers and loyal clients with its showstopping collections, Rahaminov Diamonds.
As we approached the booth, we couldn't help but notice the buzz and the fantastic energy that positively leapt from the cases and Rahaminov's incredible team. And then I saw them, the rose-cut diamonds that made me weak in the knees. Luckily enough, I got to take a few pictures for this blog, though the pieces are committed to memory.
It's unique to find so many high-quality rose-cut diamonds set in stunning designs, which are created by owner and designer Tamara Rahaminov Goldfiner. Goldfiner, who is as sparkling as her jewels, just happened to be wearing a diamond rivière necklace totaling hundreds of carats! She along with COO Rossana Aguilar and Susie Cha of Rahaminov's diamond department gave us an intimate look at these stunning rose-cut diamonds.
And as we looked at each piece, they would pull out even more rose cuts from the other side of the booth. We were stunned by the sheer variety, color, and size of many of these stones, including the 10.97-carat fancy dark brown modified kite-shaped rose cut and the 5.18-carat oval rose-cut diamond ring, which was one of the loveliest engagement rings I saw at the show.
And while Rahaminov offers an incredible selection of rose-cut diamond jewels, the Los Angeles-based company offers myriad diamond shapes, colors, and styles, so there is literally something for every taste. Visit Rahaminov Diamonds' Product Spotlight to see more, and enjoy these rose-cut diamond highlights from JCK Luxury.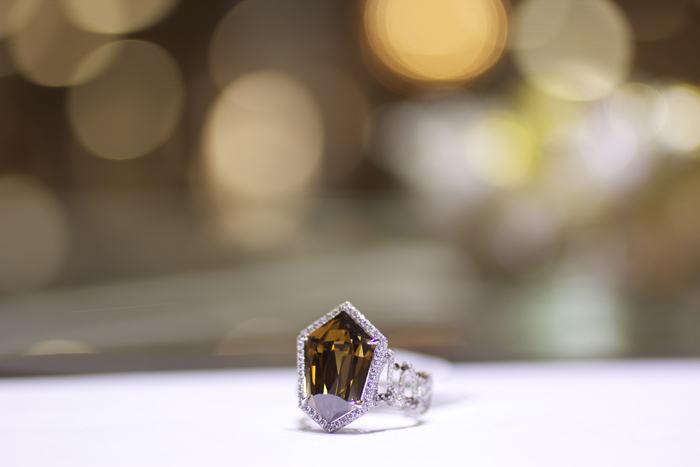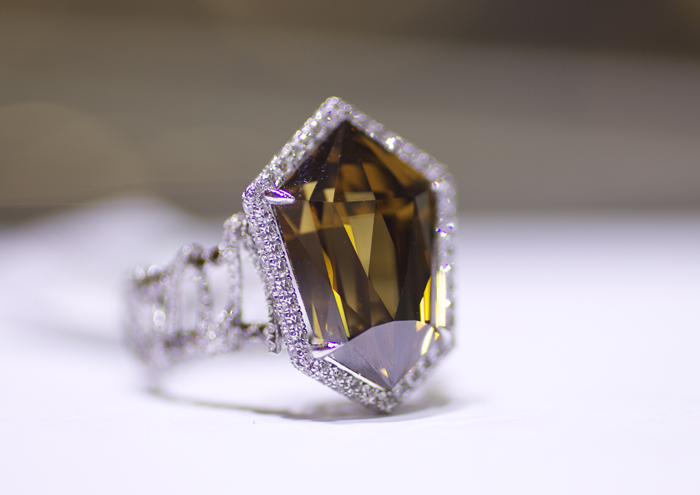 10.97-carat fancy dark brown, modified kite rose-cut diamond with pavé-set fancy brown and white diamonds in 18k white gold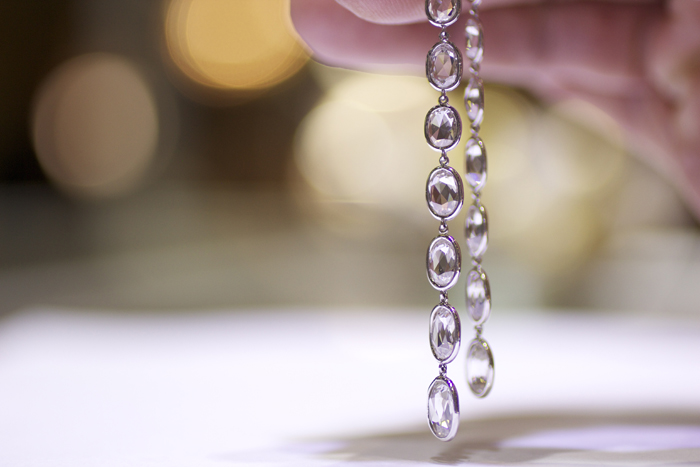 18k white gold earrings with 14 oval-cut rose-cut diamonds totaling 8.21 carats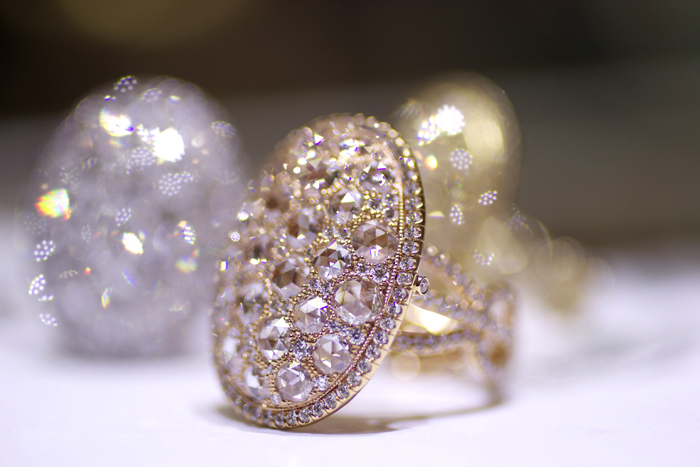 18k rose-gold mosaic ring with 17 rose-cut diamonds totaling 4.06 carats with 1.80 carats of pavé-set diamonds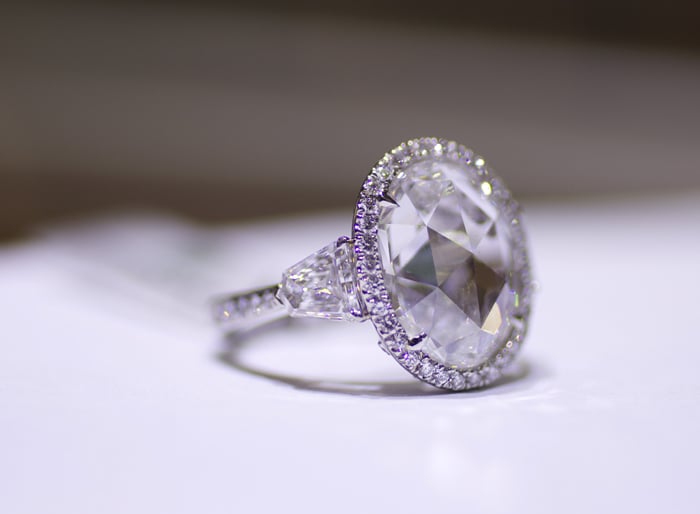 5.18-carat oval rose-cut diamond, F/VS2 with two shield-cut diamonds totaling .69 carats in platinum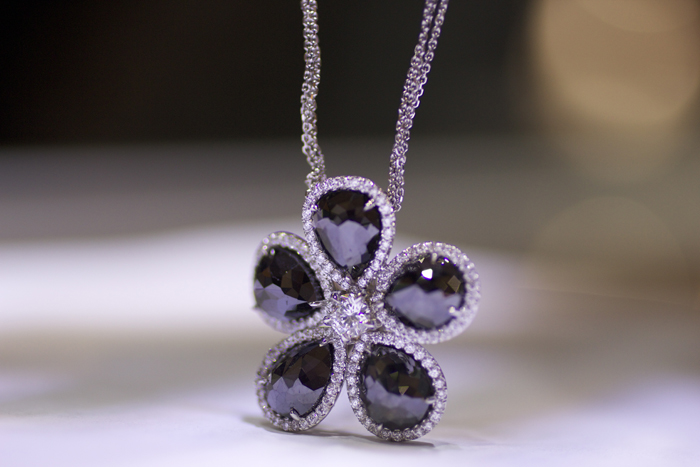 Pendant with 5 black rose-cut diamonds totaling 9.16 carats with white diamonds in 18k white gold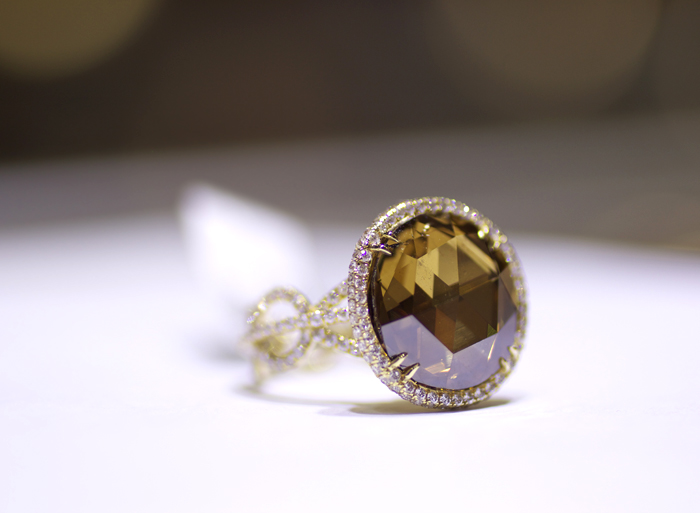 7.14-carat fancy brown rose-cut diamond with 1.22 carats of pavé-set diamonds in 18k yellow gold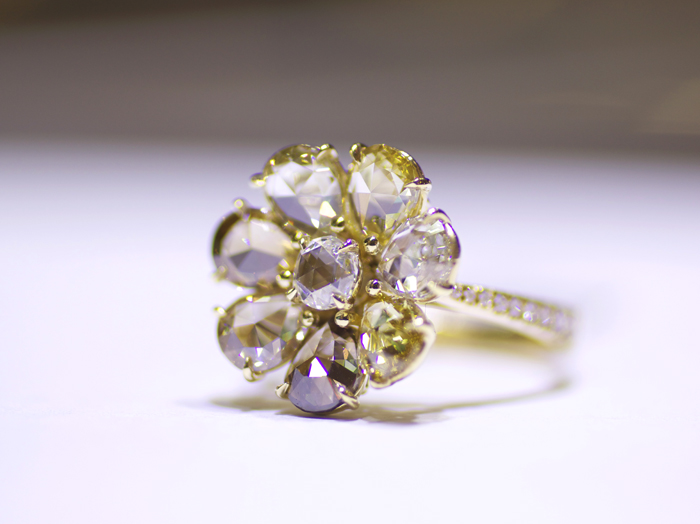 Floral ring with 3.62-carats of pear-shaped rose-cut diamonds with .33-carat round rose-cut diamond center and pavé set diamonds in 18k yellow gold
Images by Erika Winters
Related Blog Topics:
Rose Cut Diamond Romance: 6 Unique Rings for Your Valentine

Jewel of the Week – Romantic Rose-Cut Anniversary Ring

Jennifer Aniston's Rose-Cut Diamond Ring from Justin Theroux