By
Erika Winters
You don't get to "try on" a 50-carat yellow diamond every day. So when the team at Leibish & Co. invited us to their booth at JCK 2013 for an intimate look, we were very excited. Leibish has offered some of the world's rarest fancy-colored diamonds direct to consumers through a fantastic educational website since 1995. And we are thrilled to let you all know that we will be bringing some of their extensive educational resources to our own Fancy Colored Diamond Guide here at Pricescope.
Leibish & Co. CEO Yossi Polnauer and e-commerce manager Itzik Polnauer walked us through the nuances of fancy-color diamond grading and pricing. While grading and pricing for white diamonds is well-established, fancy-colored diamonds present myriad variables, as each colored diamond has a distinctive color. Leibish states that there are over 230 fancy color combinations in Not All Color Diamonds Were Created Equal – A Guide to Their Unique Traits. Those 230 combinations are derived from the most commonly sold fancy colors, like yellow, brown, and pink. When you consider secondary hues (colored diamonds with no secondary colors–like pure reds–are the rarest and most valuable) and intensity levels, the color array is potentially infinite.
Fancy-colored diamonds continue to make headlines, as the rarest stones command record prices at auction. A 1.92-carat fancy red diamond recently sold for over $3.2 million at Christie's and set a new record. And the incredible 34.65-carat fancy-intense pink Princie diamond fetched over $39 million, setting a new record for any jewel sold at Christie's–just last April. While auction prices create media buzz, fancy-colored diamonds come in all shapes and sizes, and there are more affordable options available than ever before.
And the 50-carat fancy-intense yellow? It was love at first sight. Giddy with its sunny splendor, I really didn't want to let it go. We don't know what the future holds for this rare gem, but we imagine someone, somewhere will be very lucky indeed.
Thanks to Yossi and Itzik for showing us this exquisite diamond at JCK 2013. And stay tuned–Leibish is set to unveil a new website! More to come…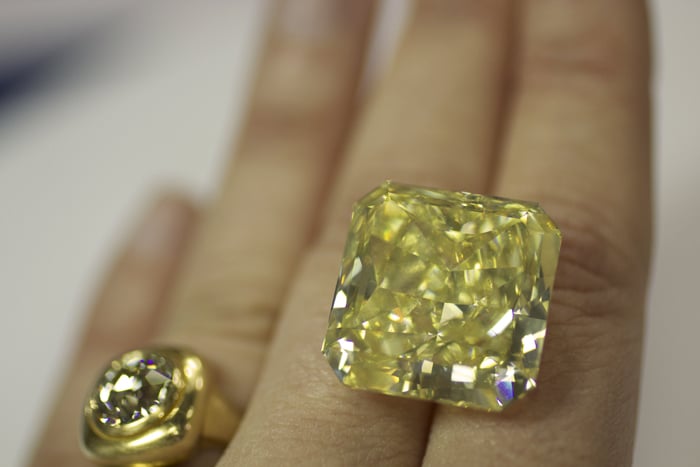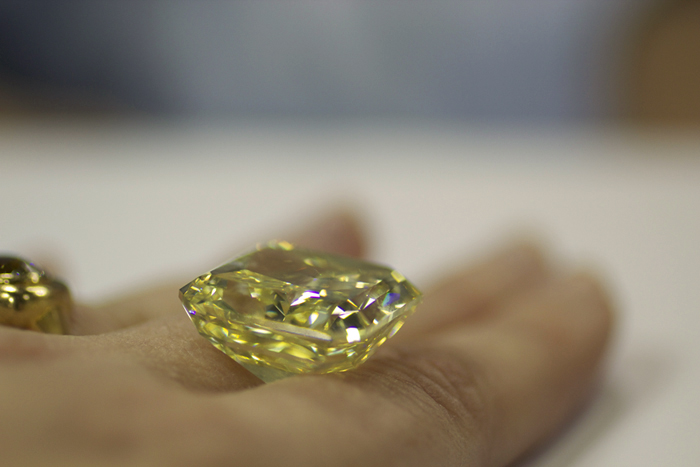 50-carat fancy-intense yellow diamond from Leibish & Co. Images by Erika Winters
Related Blog Topics:
PS GTG Door Prize Sneak Peek: Yellow Diamond Ring from Leibish & Co.!
Leibish & Co. to Present Rare Pink Diamond at Hong Kong Jewelry Show
Fancy Colored Diamonds to Dazzle at Sotheby's Hong Kong Spring 2013 Auction