By
Erika Winters
The Couture jewelry show starts this week, and we will be featuring gorgeous color from renowned jewelry designers. We are thrilled to get to spend some time with Paula Crevoshay, an award-winning artist who designs one-of-a-kind jewels set with rare and vivid colored stones. Ms. Crevoshay's work is currently featured in an exhibition at the Carnegie Museum of Natural History in Pittsburgh, Garden of Light: Works by Paula Crevoshay.
Known as the Queen of Color, Crevoshay combines an array of gemstones in designs that range from red-carpet ready–and museum-worthy–to signature pieces for everyday wear. The quality of Crevoshay's color is particularly striking. She is known for using some of the world's rarest gems, including natural pearls. And Crevoshay's carved gemstone creations–like the rubellite earrings shown below–deliver stunning lapidary artistry with captivating design.
Stay tuned for more from Paula Crevoshay and our coverage of the 2013 Couture jewelry show.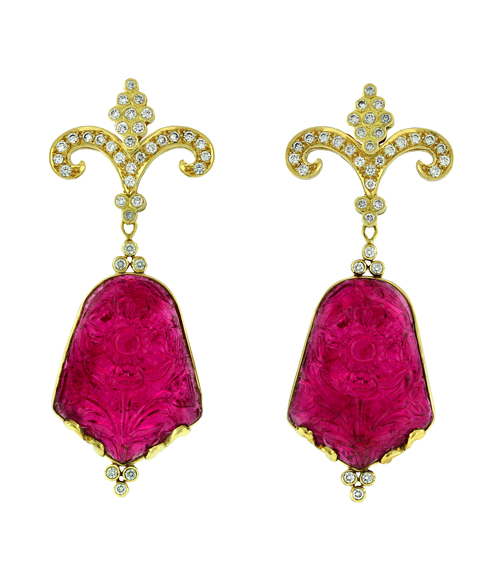 Earrings by Paula Crevoshay with over 65 carats of rubellite tourmalines in 18k gold with diamonds
Related Blog Topics:
Paula Crevoshay's Stunning Jewels Shine at the Carnegie Museum in New Exhibition
Celebrity Jewels to Shine at the Couture and JCK 2013 Jewelry Shows