PS Welcome - YouTube
All about PriceScope
Tue, 16 Apr 2013
Paula Crevoshay's Stunning Jewels Shine at the Carnegie Museum in New Exhibition
H1:
Paula Crevoshay's Stunning Jewels Shine at the Carnegie Museum in New Exhibition
By
Erika Winters
A new jewelry exhibition featuring award-winning jewelry artist Paula Crevoshay has opened at the Carnegie Museum of Natural History in Pittsburgh, Pennsylvania. The show, Garden of Light: Works by Paula Crevoshay, presents a stunning array of designs inspired by nature and created with essential natural materials, including rare gemstones and gold.

The one-of-a-kind creations celebrate the vivid beauty and connection of the plant, animal, and mineral kingdoms. Many of the pieces are shown with minerals and insects from Carnegie's natural history collection to further illustrate Ms. Crevoshay's inspiration drawn from the natural world.

"It's in our nature to mimic nature," said Crevoshay. "As an artist, I mirror back to nature that which it inspires in me, which in turn strikes a chord in my viewers."

Exhibition highlights from the Carnegie Museum:
• Gold, opal, sapphire, and incredibly rare conch pearls, just a few of the materials that are incorporated into the pieces

• Exhibits of "ecosystems" featuring pieces which reflect the biodiversity and important relationships between plants, insects, and the elements, such as water in the garden

• A selection of gem-laden orchids by Crevoshay paired with specialized insects pulled from the museum's invertebrate zoology collection that would pollinate the orchid species in nature

• Natural mineral specimens showing the transformation that takes place from mineral to work of art at Crevoshay's hand

• The role of color—especially hues of green, blue, and red—in the garden ecosystem, explored and exemplified by the gems and minerals of the jewelry

• Charming characters from sprites to nymphs, inspired by but not from nature, representing the long cultural history humans have of trying to capture the beauty, spirit, and essence of nature
The exhibition runs from April 13 to August 11, 2013. Visit the
Carnegie Museum of Natural History
for more information.
And also visit Contemporary Jewelry Design Group for a wonderful interview with Paula Crevoshay from CJDG editor Monica Stephenson:
Conversations: Paula Crevoshay - Garden of Light
.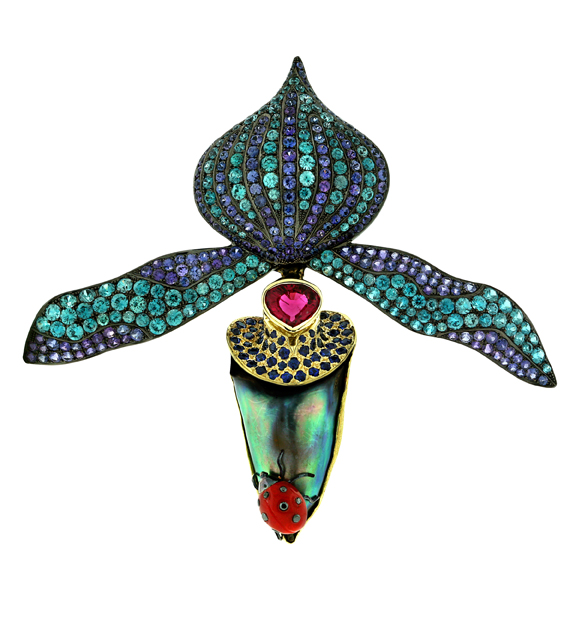 Midnight Seduction (ladyslipper orchid) with sapphire, blue zircon, black diamond, coral, and abalone pearl by Paula Crevoshay. Photo by Chris Chavez

About the Artist: Paula Crevoshay has been a jewelry designer for more than 30 years. Her artistry focuses on original, one-of-a-kind pieces. Her work combines her love of art, history, and nature. She is considered one of the foremost jewelry designers of our time.

Image courtesy of Paula Crevoshay
Related Blog Topics:

Henry B. Plant Museum Explores "The Language of Jewelry" in New Exhibition

Highlights from "Out of the Vault: Pink Diamonds and Royalty" Exhibition

Cullinan Diamonds to Go on Display for The Queen's Diamond Jubilee