By
Erika Winters
Royal Asscher has debuted a special jewelry collection to commemorate King Willem-Alexander's coronation, which was held today. The new collection named "Fancy Royals" showcases orange diamonds and sapphires in honor of the Dutch royal family, the House of Orange.
The unique collection is comprised of three ring styles with crown motifs detailed in pavé diamonds. The rings are available in 18k gold or silver–with orange and white diamonds set in 18k gold and orange sapphires and white diamonds set in silver.
Royal Asscher has an extensive history with many of the world's royal families. In 1908, the Asscher brothers cut the largest diamond in the world, the 3,106-carat Cullinan diamond, which yielded the 530-carat Cullinan I diamond. The Cullinan I, also called the "Great Star of Africa," is set in the Royal Sceptre from Great Britain's Crown Jewels. Additionally, the 317-carat Cullinan II is mounted in Great Britain's Imperial State Crown.
In 1980, the late Queen Juliana of the Netherlands granted the Asscher Diamond Company the royal title in acknowledgment for both the family and company's leading role in the diamond industry. In 2011, the former Queen Beatrix of the Netherlands extended the royal title for another 25 years.
And today millions of Dutch citizens honored the new King Willem-Alexander, and Amsterdam is adorned in orange as part of the many celebrations held this week.
Royal Asscher's symbolic "Fancy Royals" collection shines with the color of the House of Orange and the family's royal history.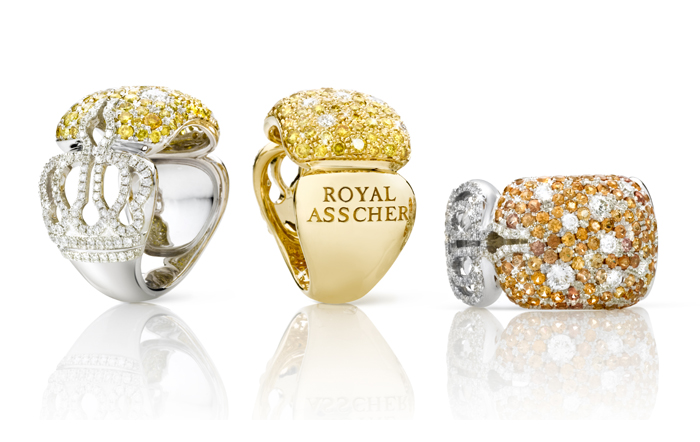 Royal Asscher's Fancy Royals Collection: 18k white gold (left) and yellow gold rings (center) each with 1.50 carats of orange diamonds and .70 carats of white diamonds, $7675 • Fancy Royal silver ring (right) with 1.99 carats of orange sapphires and .70 carats of white diamonds, $2,575.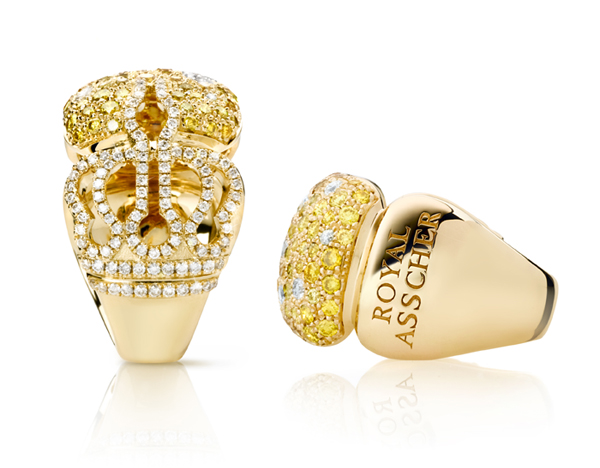 Related Blog Topics:
Royal Asscher Debuts Man-Made Diamond Brand: Rebel Chique
A Tiara for Tuesday: Royal Asscher Diamonds

Q&A with Mike Asscher, Managing Director of Royal Asscher Diamond Company