Because we could all use an "it's Tuesday, I love you" gift, we present you with this Royal Asscher tiara designed by Reena Ahluwalia. The 85-carat diamond tiara was recently on display at Royal Asscher's pop-up store in Las Vegas during JCK's jewelry week. Visitors had the opportunity to try on the tiara, which was originally proposed for the royal wedding of Prince William and Catherine Middleton. (The Duchess of Cambridge ultimately wore the Cartier "Halo" tiara, lent to her by The Queen)
"To say it in my grandmother's wise words: Let's celebrate everyday moments," said Lita Asscher, President of Royal Asscher America. And, what better way to celebrate than with jewelry? Happy Tuesday!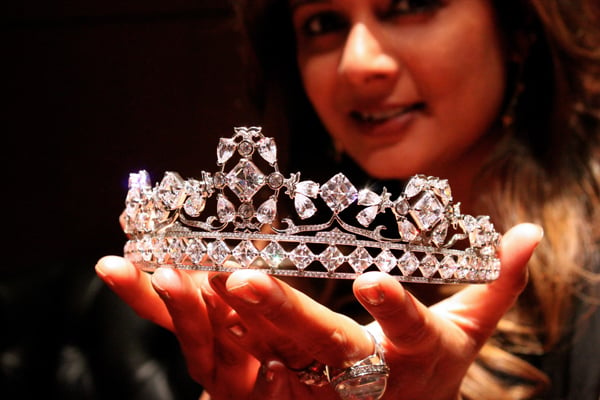 Designer Reena Ahluwalia holds the Royal Asscher Diamond Tiara, which boasts 85 carats total of diamonds, including a 10-carat Royal Asscher cut in the center.
Related Topics:
Reena Ahluwalia Debuts Award Winning "Canoe" Diamond Necklace
Let's talk tiaras. Royal Asscher