By Erika W.
A work of crystalline geometry, Reena Ahluwalia's "Canoe" diamond necklace brings the Canadian landscape to the jewelry world. Ahluwalia was one of nine winners of Rio Tinto's Global Design Competition, which had a record number of entries from the US, Canada, Australia, India, China, and Hong Kong. After winning the Master Craftsman award in the category of "Canadian Diamonds," Ahluwalia started production on the intricate design.
"Celebrating the magic and beauty of Canada, my home, is the inspiration for my design. Canoe is a carrier of Canadian myths, a symbol very unique to Canada that represents voyage, harmony with nature, discovery and courage. It is one of the greatest gifts the First Nations people gave to all those who came after. A crystalline perspective, this necklace hopes to capture the luminous magic of the True North," said Ahluwalia.
Ahluwalia collaborated with Crossworks Manufacturing Ltd., a diamond and jewelry manufacturer in Vancouver, B.C. The necklace is crafted in 18k white gold with a total of 28.96 carats of Canadian diamonds.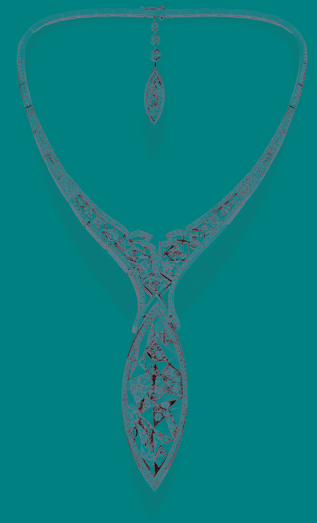 The completed "Canoe" necklace features patented square-cut diamonds in asymmetrical patterns to represent floating ice. The necklace will be showcased in a celebrity suite at the 2012 Academy Awards.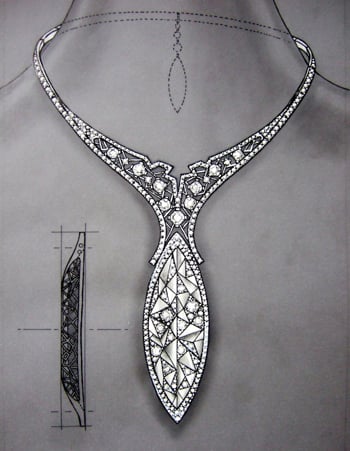 The award winning design rendering of Ahluwalia's "Canoe" necklace
"I wanted the diamonds to reflect on the opposite facets for a dramatic shine and create an icy crystalline look," said Ahluwalia.
Related topics:

Reena Ahluwalia, designer of Royal Asscher's Shining Stars collection
Royal Asscher to Launch "Shining Stars" Collection