Q&A with Mike Asscher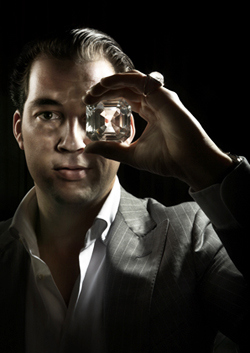 Globe-trotting diamantaire and managing director of the Royal Asscher Diamond Company, Mike Asscher joins Pricescope's Q&A with the diamond and jewelry trade. Mr. Asscher started his career with Royal Asscher as a diamond cutter and later worked as an assistant buyer, quality controller, head buyer and general manager. He currently works with his father and sister, and as a family, they are committed to the expansion of Royal Asscher within an ethically operating diamond industry. The company's latest collaboration is with the Diamond Empowerment Fund, which supports educational initiatives for economically disadvantaged people in diamond producing countries.
Questions for Mike Asscher
The evolution of the Royal Asscher Cut stretches back for 109 years, actually. In 1902 my great great grandfather designed and developed one of the world's first patented diamond cuts, the very well known "Asscher Cut." It is this cut that a lot of diamond manufacturers try to copy and sell. Today we would call that the square emerald cut, as there are only a few original Asscher Cuts left in the world which are truly authentic. The unique thing about the original Asscher Cut is that it, like the Royal Asscher Cut, it has a very high crown. When you look at today's square emerald cuts, most of them have a large table and a shallow crown and a steep pavilion. This is because most diamond cutters or manufacturers look for the biggest yield and not the greatest beauty. When one would compare the difference between a square emerald or the so called "Asscher" Cut and the Royal Asscher Cut, you can see that for the Royal Asscher Cut we have kept the high crown of the original Asscher cut from 1902, but instead of leaving the steep pavilion we have created a shallower pavilion. Each and every Royal Asscher Cut is accompanied by two certificates, one from the independent laboratories and one authenticity certificate from the Royal Asscher Diamond Company. Every Royal Asscher Cut has 2 laser inscriptions, one of the unique serial number, which is stored in our database, and one of the Royal Asscher crown and logo. The unique combination of angles and degrees of faceting creates a light reflection one has never seen before in a perfectly square step cut diamonds.
In 1999 my father Edward and late uncle went to a GIA symposium in San Diego. He met with hundreds of retailers coming up to him asking him if he was of the Asscher family who created the original Asscher Cut, and if so, if they could buy some Asscher Cuts from them. Due to our history, before the Second World War we had 750 polishers working for us and after the war we only had 15 people left, including our family. We have concentrated on rebuilding the Asscher diamond company-not on the (at that time) expired patent of the old Asscher Cut. So the answer was, no.
When my father came back from the US, he decided to recreate the Asscher Cut together with his brother, my late uncle Joop. Not like the old Asscher Cut but a totally new diamond. For our company values, innovation is one of our main drivers.
So we have studied the old Asscher Cut, and after two years of research and a lot of trial and error, we have created 5 different versions of the new Royal Asscher Cut. We took those 5 different versions all around the world and showed it to our friends, clients, consumers and relatives. Everyone decided on the same diamond, and the new Royal Asscher Cut was born, a perfectly square step cut diamond with 5 breaks on the pavilion and 3 breaks on the crown. With its unique facet angles creating a light reflection and dispersion never seen before in a square step cut diamond, we patented the Royal Asscher Cut and introduced this diamond for the first time in the US in 2001. When we first introduced the Royal Asscher Cut, we worked together with a company to do the distribution in the US. However, in 2005 this company went bankrupt and we decided to do the distribution ourselves. My sister Lita Asscher went to the US and set up Royal Asscher of America. Responsible for the marketing and distribution of the Royal Asscher Cut. We have slowly built a great network of retailers in the US who sell the Royal Asscher Cut today.
We are extremely proud we have our own company in the US to do the distribution for our Royal Asscher Cut, and we have created 50 new diamond engagement rings specially designed for the Royal Asscher Cut.
Next to our new diamond engagement line, which is totally designed for the Royal Asscher Cut, we have introduced one of the industries most innovative jewelry designs of the last decade, the Stars of Africa collection, which is based on the mesmerizing effect of floating diamonds. The diamonds are encased in a fluid-filled sapphire dome, which allows them to fall freely, like snowflakes in a snow globe. The result is cascading diamonds which emit light, fire and beauty as they move. The Stars of Africa collection is named after the largest diamond ever found, the 3,106 carat Star of Africa (Cullinan) diamond, cut by the Asscher family in 1908. As a piece of fine jewelry these rings can not fail to be a talking point – they are incredibly stunning in their own right, and when you combine this with the fact that Royal Asscher will donate $150 from the sale of each jewelry piece to educational, health, micro-economic and self sufficiency programs in Africa, you have one of the most revolutionary ideas the jewelry industry has ever seen.
I am proud to say that we are spearheading this project. It is testimony to our desire to deliver only the most beautiful merchandise, through true innovation, hard work, strict quality standards and social integrity. It is our sincere hope that the phenomenally beautiful Stars of Africa collection has a tangible impact where it is most needed. We are entirely confident that women across the world will fall in love with this entrancing, fabulous and utterly glamorous concept and that they will wear the jewelry not only for their beauty, but also to support the initiative.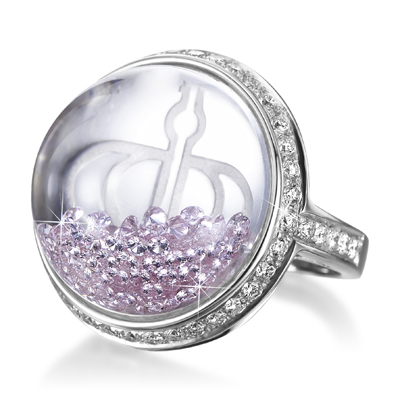 Pink diamond ring from Royal Asscher's Stars of Africa Collection.
It is with great pride to tell you that our first flagship store in Tokyo opened this year on July 16th and that last week we have opened our first shop in shop in Beijing, China. The next store openings will be two more in Beijing and then three more in mainland China. This is the starting point of Royal Asscher's new strategy to expand our jewelry brand. Coming from a traditional diamond manufacturing company and changing that into a global jewelry brand is one of the most exciting things we have ever done. It might just be as exciting as creating the worlds largest diamond ever found for my ancestors….. For the 5th and 6th generation of the company, we aim to focus on expanding our jewelry range and brand into the next decade.
In commemoration of the opening of Ginza store, the Royal Asscher diamond tiara was created for the first time. For customers who buy a Royal Asscher diamond engagement ring at the Ginza store, the diamond tiara will be loaned as a special service that is limited to the Ginza store. The diamond tiara is shining with a total of 10 carats of diamonds set in platinum, which is worth about 31.5 million Yen (about $385,000, consumer tax included). As the final touch to celebrate the start of a happily married life, brides can enjoy the true brilliance of Royal Asscher diamonds.
Tiaras have always had a special place in our history. We have created many beautiful diamonds for different Royal families who have used them in their tiaras, so we thought that with the latest Royal wedding in the United Kingdom we couldn't let this unique moment pass without designing a new tiara for that wedding. We proposed the design to Prince William and Kate Middleton at the time, but in the end they chose a piece with heritage from the family's unique collection.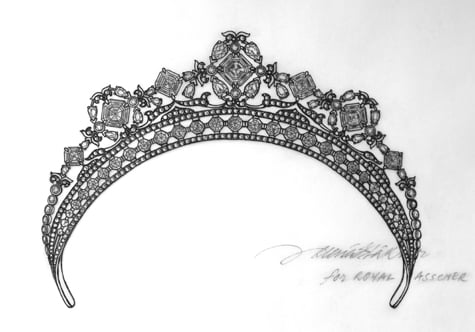 Sketch of the Royal Asscher diamond tiara proposed for the royal nuptials of Prince William and Catherine Middleton.
It is my personal belief that buying a diamond must be a special moment in life. Let yourself be informed and choose a diamond with which you find yourself connected. When I buy diamonds, not one diamond is exactly the same as the other. Behind every diamond there is a unique story, and that is what makes this unique miracle of nature such a precious and special purchase. Follow your heart. Taste is something very personal, but go for authenticity. When buying a round brilliant, make sure it is certified and cut to the highest standards-not saying that there is one specific standard for a round brilliant. When buying a fancy cut like the Royal Asscher Cut. Try to compare a square emerald cut to the Royal Asscher Cut and just like our Stars of Africa collection you will be mesmerized by the effect we have been able to create in a square step cut diamond. But in the end…
A diamond is the most precious possession you can have and is especially emotional, as there is always a unique occasion to buy one. Make sure this will last for the rest of your life.
I do. I wear my wedding band every day. The symbol of eternal love is set within my wedding band. For every year I am married I add one diamond on the inside of my ring. I also wear a lot of cufflinks. I have a couple of different special cufflinks. One set inherited from my grand father and one inherited from my late uncle. And of course a pair of Stars of Africa cufflinks.
I don't have one specific style I admire. As a great admirer of diamonds, gemstones and jewelry I enjoy almost every piece, because every piece has a special story to it.
If I do have to make a decision, at this moment it will be a jewelry piece with pink diamonds, my favorite color in diamonds-especially, the limited edition of the Stars of Africa.
Special thank you to:
Mike Asscher, Managing Director, Royal Asscher Diamond Company