Seven of the nine principal stones cut from the 3,106-carat Cullinan diamond will go on display at the upcoming "Diamonds: A Jubilee Celebration" exhibition at Buckingham Palace this June. The show is part of The Queen's Diamond Jubilee, commemorating the monarch's sixty-year reign and will include an unprecedented selection of the most renowned royal jewels.
The exhibition will reunite seven Cullinan diamonds set in three brooches, a ring and a necklace. The remaining two form part of the Crown Jewels and are held in the The Royal Sceptre and The Imperial State Crown.
The Cullinan, discovered at the Premier Mine in South Africa in 1905, is the largest gem quality rough diamond ever found. The stone, named after mining company chairman, Sir Thomas Cullinan, weighed 3,106 carats and measured 10.1 x 6.35 x 5.9cm. The diamond was entrusted to the IJ Asscher firm in Amsterdam and was cleaved by Joseph Asscher after months of studying the gem.
The rough yielded nine primary diamonds, 96 smaller brilliant cuts, and 9.5 carats of unpolished pieces. The largest of the gems is the Cullinan I, also known as "Great Star of Africa." The pear-shaped diamond of 530.4 carats is held in the Royal Sceptre and can be removed to be worn as a brooch.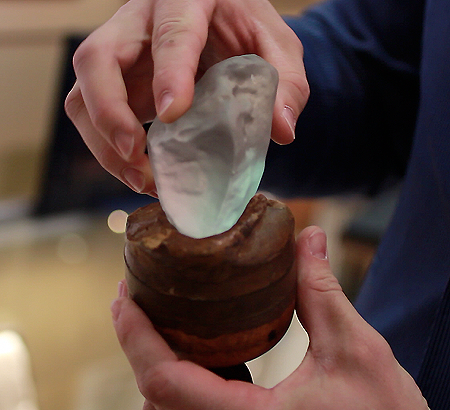 Royal Asscher Managing Director, Mike Asscher holds a model of the Cullinan rough diamond and demonstrates how the stone was placed prior to cleaving. After the first blow, the cleaving blade broke, but not the diamond. After the second attempt, the stone broke neatly into two pieces.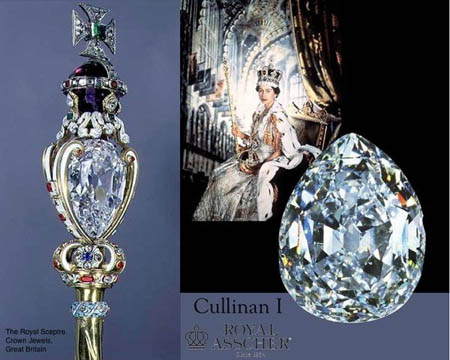 The Royal Sceptre from Great Britain's Crown Jewels holds the 530.4 carat Cullinan I diamond, also known as the "Great Star of Africa." The Imperial State Crown (worn by Queen Elizabeth II in her coronation portrait above) holds the Cullinan II, a cushion-cut diamond of 317.40 carats. Visit The Royal Collection for detailed images.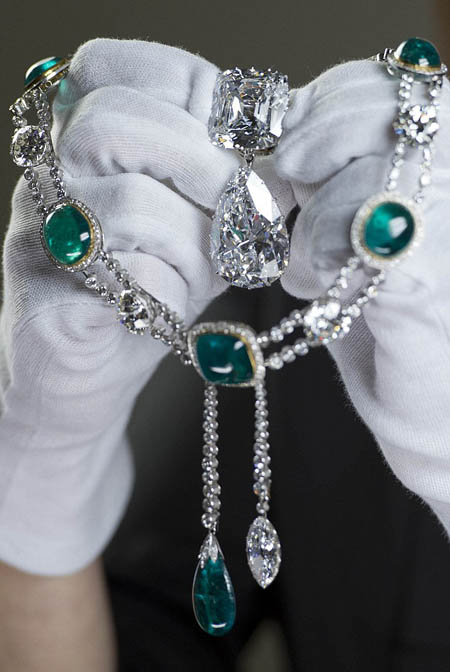 Photo: Roland Hoskins
Curator of the Royal Collections holds the Cullinan III (cushion-shape of 63.3 carats) and IV (pear-shape of 94.4 carats) Brooch and the Cullinan VII Delhi Durbar Necklace and Cullinan Pendant (8.8 carat marquise-cut).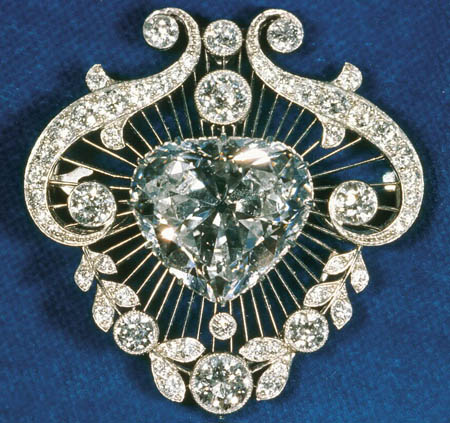 The Cullinan V Brooch with a heart-shape of 18.8 carats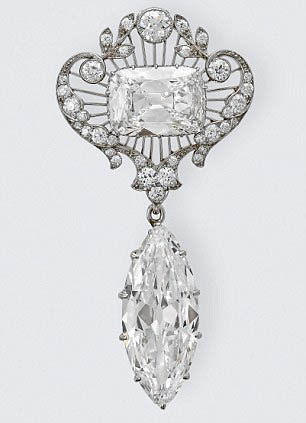 The Cullinan VI (marquise-cut of 8.8 carats) and VIII brooch (cushion-shape of 6.8 carats)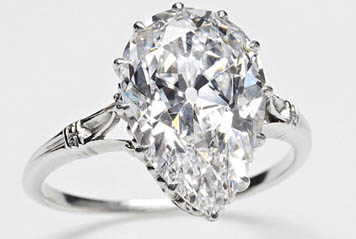 The Cullinan IX, the smallest of the nine diamonds, weighs 4.4 carats.
Related Topics:

The Williamson Brooch and The Queen's Diamond Jubilee

British Royal Jewels Exhibition, "Diamonds: A Jubilee Celebration"