By Erika W.
The "Van Cleef & Arpels, Timeless Beauty" exhibition opened on May 20 at the Museum of Contemporary Art in Shanghai. Celebrating over 100 years of innovation in jewelry design, the show features over 370 pieces of jewelry, watches, and accessories from current, archival, and private collections. The French jeweler also created several new High Jewelry pieces to highlight some of its most renowned techniques, including the Mystery Setting and the Zip necklace.
The heritage exhibition is open through July 15, 2012. Visit MOCA Shanghai for details.
Images courtesy of MOCA.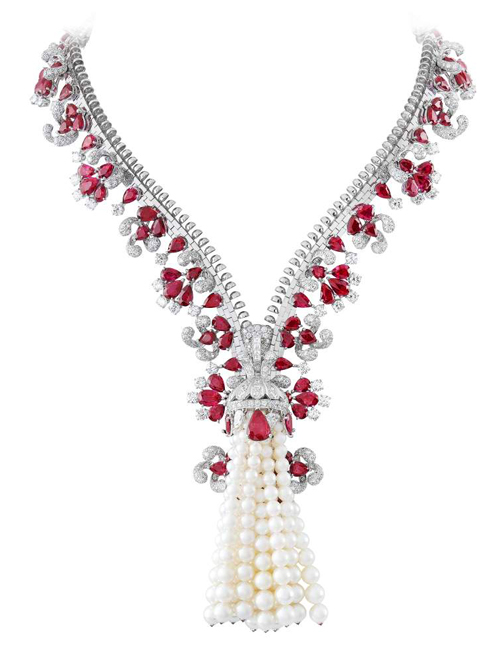 Images © Van Cleef & Arpels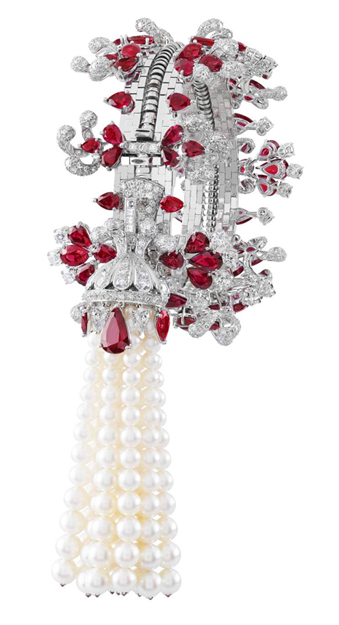 Set in white gold, the Zip necklace features rubies, diamonds, and cultured pearls. The Zip necklace's history begins in the late 1930s when the Duchess of Windsor suggested that a zipper be used as inspiration for a jewelry piece. The Zip design can be worn two ways, as a necklace or closed as a bracelet.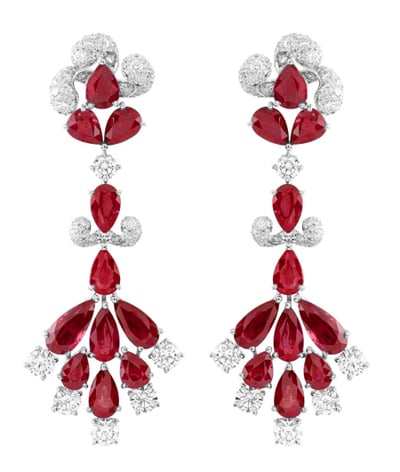 Image © Van Cleef & Arpels
The Zip earrings with diamonds and pear-shaped rubies were created for the "Timeless Beauty" exhibition.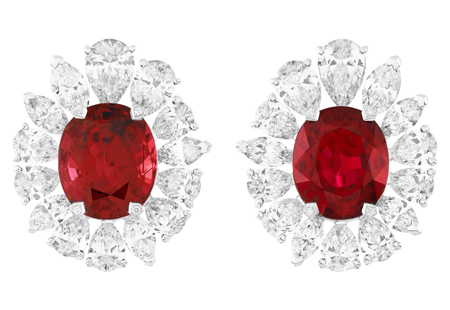 Image © Van Cleef & Arpels
The Vermillion earrings feature two matched oval-cut rubies from Tanzania weighing 13.33 and 13.83 carats. The rubies are set in white gold with diamond prongs and pear-shaped and marquise-cut diamond surround.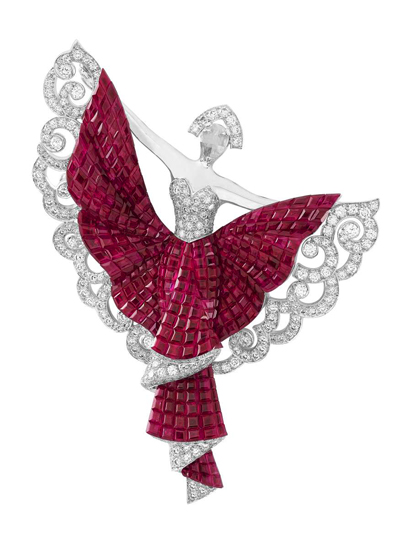 Image © Van Cleef & Arpels
The Silk Road Dancer clip combines the grace of Van Cleef & Arpels' ballerina-inspired jewels with an homage to the Chinese dance drama: Along the Silk Road. The dancer's ruby skirt was created using the Mystery Setting technique, which was patented by the company in 1933.
Stanislas de Quercize, President and CEO of Van Cleef & Arpels, discusses the "Timeless Beauty" exhibition and the company's history.
Related Topics:
Van Cleef & Arpels Jewelry Exhibition


Van Cleef & Arpels to Open Jewelry School
Set in Style: The Jewelry of Van Cleef & Arpels – CBS News Video