By
Erika Winters
If you're looking for another excuse to visit the Crater of Diamonds State Park in Murfreesboro, Arkansas, this 5.16-carat diamond find should do the trick! A very lucky Michael Dettlaff, age 12, of Apex, North Carolina, found the large rough brown diamond on July 31. According to park staff, Dettlaff, a Boy Scout, was so grateful for the find that he named the gem the "God's Glory Diamond."
The Dettlaff family was on a summer vacation trip in Arkansas when they took a 100-mile detour to visit the popular diamond site for the first time. And the excursion proved most worthwhile, as Dettlaff found the large brown diamond after about 10 minutes of searching. According to park interpreter Waymon Cox, the gem is both the 27th largest diamond ever found by a visitor since the park's opening in 1972 and the 8th largest brown diamond certified by park staff.
"This diamond is truly glorious. The pear-shaped crystal is complete, about the size of a jellybean, and it has a beautiful metallic luster. The diamond's surface features interesting notches that give it a one-of-a-kind appearance and tell of its powerful and turbulent origins, as magma brought it to the surface from deep within the earth," said Cox.
Dettlaff found the diamond at the north end of the diamond search area, a 37.5-acre field that is plowed regularly to bring diamonds to the surface.
"No two diamonds are the same. But what also makes each Crater diamond unique is its story. Michael had only been searching for about 10 minutes when he found his diamond. In fact, Michael's dad was renting mining equipment to begin his own diamond search when Michael showed the gem to him at the park's Diamond Discovery Center," said Cox.
And Dettlaff discovered his gem just a few weeks after another noteworthy brown diamond weighing 2.95 carats was found at the park. Approximately 2 diamonds are found each day at Arkansas' crater, which is the world's only diamond-producing site open to the public. And with its "finders keepers" policy, the park attracts visitors all year round.
Visit the Crater of Diamonds State Park to see the latest recorded finds and for more information.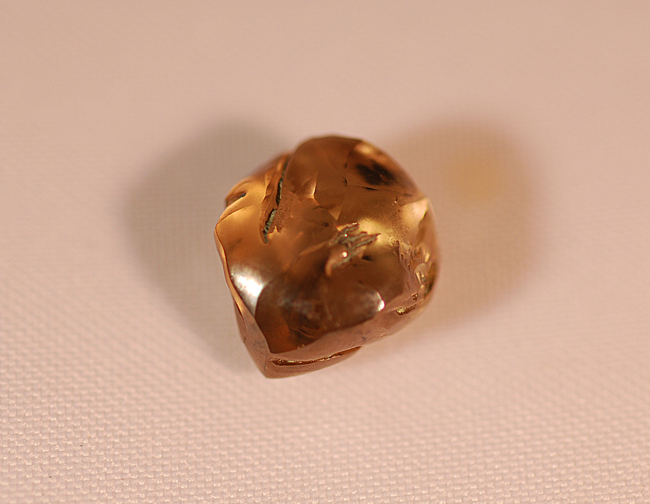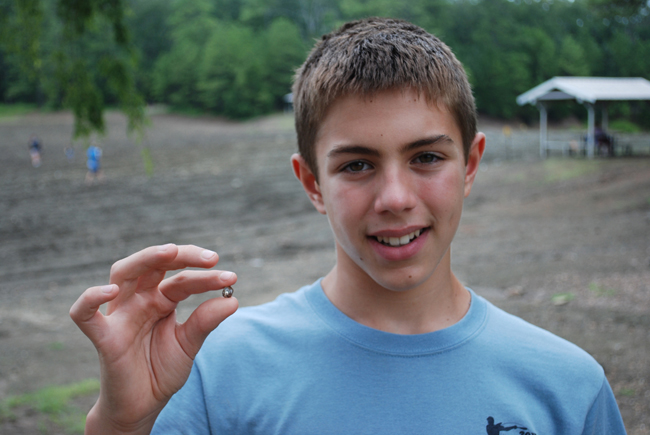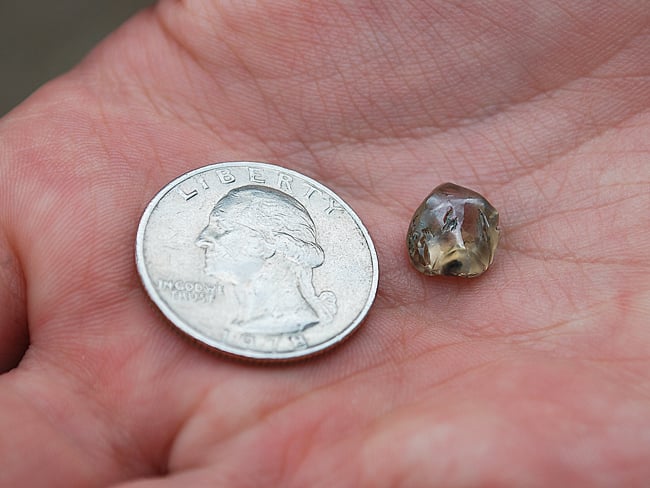 12-year-old Michael Dettlaff of Apex, North Carolina, found this 5.16-carat diamond at the Crater of Diamonds State Park in Murfreesboro, Arkansas.
Images courtesy of Arkansas Dept. of Parks and Tourism.
Read more about diamond finds at the Crater of Diamonds State Park:
2.95-Carat Brown Diamond Found at Arkansas State Park
2.10-Carat Brown Diamond Found at Arkansas State Park

Field Trip? Crater of Diamonds State Park
2.44ct Rough Diamond Found at Arkansas Park Yields 1.06ct F VVS2 Pear Shape