By
Erika Winters
The Metropolitan Museum of Art will be featuring over 400 works by renowned jewelry designer, Joel Arthur Rosenthal, in a new exhibition, "Jewels by JAR," beginning on November 20, 2013. The exhibition, which runs through March 9, 2014, is the first retrospective of Rosenthal's work in the U.S. and the first significant JAR show since 2002 in London.
Rosenthal, who works under the name JAR, has created some of the world's most exquisite one-of-a-kind jewels for the last 35 years. And there is as much legend and lore surrounding the designer, as there is interest in his creations, which adorn the likes of celebrities and other high-profile clientele, including Elizabeth Taylor, Ann Getty, Lily Safra, and Ellen Barkin. In this age of ever-present digital marketing, Rosenthal stands alone as a designer who eschews conspicuous branding. There is no website, no ad campaign, and no social-media empire. Rather, there is a small shop in Paris on the Place Vendôme where JAR has designed jewelry since 1978.
According to a Forbes report, JAR creates about 70 to 80 pieces per year, and his jewels command some of the highest prices at auction–garnering much more than what the original buyers paid. In May 2012, at Christie's "Jewels for Hope" sale of Lily Safra's collection, a group of 18 jewelry pieces by JAR fetched $11.4 million, setting a record as the most valuable single-owner collection of JAR's work ever sold at auction.
The "Jewels by JAR" exhibition will be accompanied by an illustrated catalogue to be published by the Metropolitan Museum and distributed by Yale University Press. The exhibition presents a rare opportunity to see JAR's creations in this unique retrospective.
From the Metropolitan Museum of Art:
Born in New York and educated at Harvard, Rosenthal moved to Paris soon after his graduation in 1966 and began to experiment with jewelry making. JAR opened in 1978 on the Place Vendôme—the same space he occupies today. Very early in his career, Rosenthal revealed his superb sense of color, whether in the hue of an exotic violet sapphire, the shimmer of topaz and ruby, or the simple clarity of a perfect diamond. His works quickly became known for their unique design, the quality of their stones, and their remarkable craftsmanship, but above all for their fearless beauty. He is known for his pavé technique—the setting of small stones so close together that they appear as a continuous surface of jewels—and uses subtle gradations of color to create a painterly effect.
The exhibition will be the first devoted to a contemporary artist of gems at the Metropolitan Museum and will feature a selection of JAR's finest pieces—from jewels in classical flower forms and organic shapes to witty objets d'art—all executed with the most exquisite gem stones including diamonds, sapphires, garnets, topazes, tourmalines, and citrines in an original combination of colors. Rosenthal's one-of-a-kind creations place him among the ranks of history's greatest jewelers.
Art scholar Adrian Sassoon writes in his essay for the exhibition's catalogue: "Rosenthal the artist honors his materials…a unique JAR jewel is intended to make the new owner feel special, to share in the experience of having something of nature transformed."
Jewels by JAR • November 20, 2013–March 9, 2014
Exhibition Location: Lila Acheson Wallace Wing, The Helen and Milton
Kimmelman Gallery, Gallery 913
*JAR jewels below are from Christie's May 2012 "Jewels for Hope" auction of Lily Safra's collection.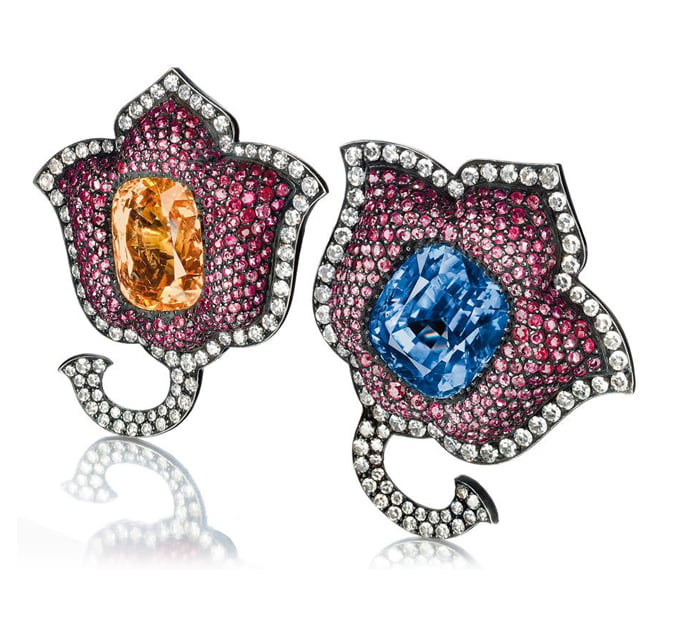 JAR sapphire, ruby, and diamond Moghul tulip ear clips • Sold for $275,168 at Christie's in May 2012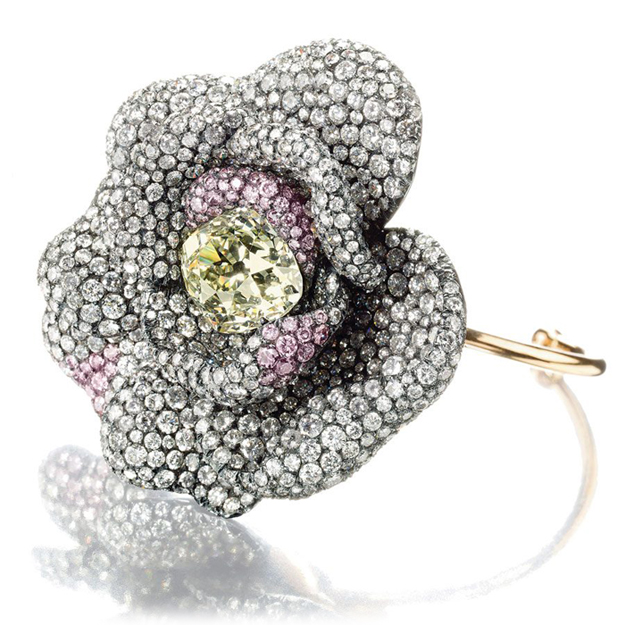 JAR diamond camellia flowerhead bangle bracelet • Sold at Christie's in May 2012 for $624,792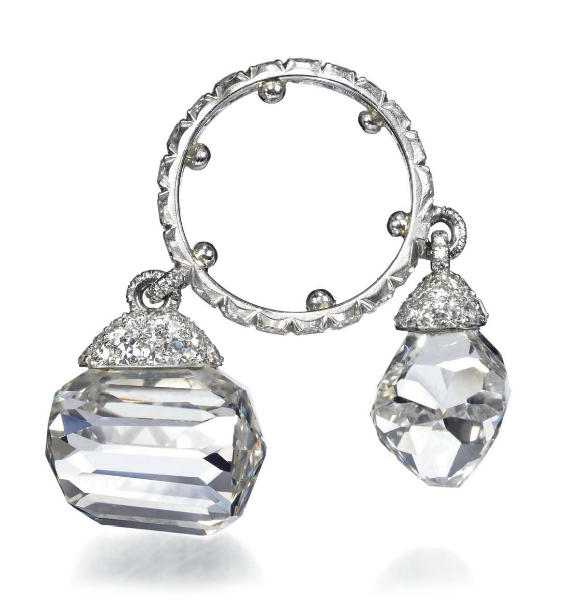 JAR diamond charm ring with two taviz-cut diamonds weighing 16.98 and 15.31 carats • Sold for $974,417 at Christie's "Jewels for Hope" auction
Related Blog Topics:
Jewels for Hope: Lily Safra's Charity Jewelry Auction
Burmese Ruby, JAR Jewels Set Records at Lily Safra's "Jewels for Hope" Auction

JAR, Jadeite, and Burmese Ruby Highlight Christie's Hong Kong Auction