PS Welcome - YouTube
All about PriceScope
Wed, 10 Apr 2013
2.10-Carat Brown Diamond Found at Arkansas State Park
H1:
2.10-Carat Brown Diamond Found at Arkansas State Park
By
Erika Winters
A lucky diamond hunter found a 2.10-carat brown diamond at the Crater of Diamonds State Park in Murfreesboro, Arkansas last week. And the discovery couldn't be any more perfect: the diamond was found by Andrea Murphy, a Gentry, Arkansas resident and April baby, who visited the park to celebrate her 30th birthday.

According to news reports, Murphy found the diamond after about two hours of combing the surface of the 37.5-acre plowed field. The brown diamond, described as "iced-tea" color, was found in the park's East Drain area. Murphy, who was visiting the park with her family, named the diamond the "Andrea Birthday Diamond" after verification from park staff.

Since January 1, 2013, 144 diamonds have been found at the park, including 6 stones that weigh over a carat. And another brown diamond, weighing 1.61 carats was found just weeks ago.

Park officials state that approximately 2 diamonds are found at the park each day. And though the site is not commercially viable, over 30,000 diamonds have been found since the park's opening in 1972. A perk of the park is that visitors get to keep any diamond or other minerals they find.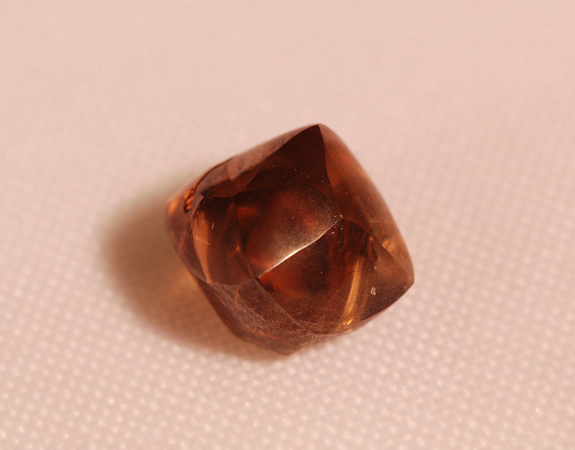 The 2.1-carat "Andrea Birthday Diamond" was found at the Crater of Diamonds State Park in Murfreesboro, Arkansas.
Related Blog Topics:

Field Trip? Crater of Diamonds State Park

2.44ct Rough Diamond Found at Arkansas Park Yields 1.06ct F VVS2 Pear Shape

1.97 carat Diamond Found at Arkansas Park