By
Erika Winters
A lucky Terry Staggs of Richmond, Kentucky, found a 2.95-carat rough brown diamond at the Crater of Diamonds State Park in Murfreesboro, Arkansas, on July 4. According to a park statement, the gem is the largest of many diamonds Staggs has found in 28 years of park visits. It's also the largest of 304 diamonds found at the park this year. Staggs named his find the "Patriot Diamond," since it was found on Independence Day.
"Mr. Staggs' diamond appears to be a complete crystal and is shaped like a shield. It's about the size of an English pea and has a golden brown metallic appearance," said park interpreter Waymon Cox. "The diamond looks similar in shape to the 4.21-carat yellow Okie Dokie Diamond, which was discovered by Oklahoma State Trooper Marvin Culver at the Crater of Diamonds in 2006."
The park's search area is a 37.5-acre field, which is plowed regularly to bring diamonds to the surface. Diamonds found at the park are typically white, brown, or yellow. Staggs found his diamond after searching for over 2 hours.
"Because of their color, brown diamonds are often difficult to find in the dark dirt of the diamond search area. However, sunny weather conditions on July 4th were perfect for this sparkler to catch Mr. Staggs' attention as he searched." said Cox. "Mr. Staggs' gem was found in gravel on the surface of the East Drain area. Sunlight reflecting off the diamond made it stand out from the other stones."
Arkansas' crater is the world's only diamond-producing site open to the public, and for a modest $7 fee ($4 for children), you can dig for diamonds to your heart's content. The park's "finders keepers" policy attracts visitors all year round. And staff provide free diamond identification and registration. The park also offers educational programs, exhibits, and tips on how to recognize rough diamonds.
Over 75,000 diamonds have been found at the site, since the first gems were discovered in 1906 by a farmer who owned the land. The site's largest recorded find, a 40.23-carat diamond named "Uncle Sam," was found in 1924. And approximately 2 diamonds are found at the park every day.
For diamond lovers who don't mind digging in the dirt, we can't think of a better field trip!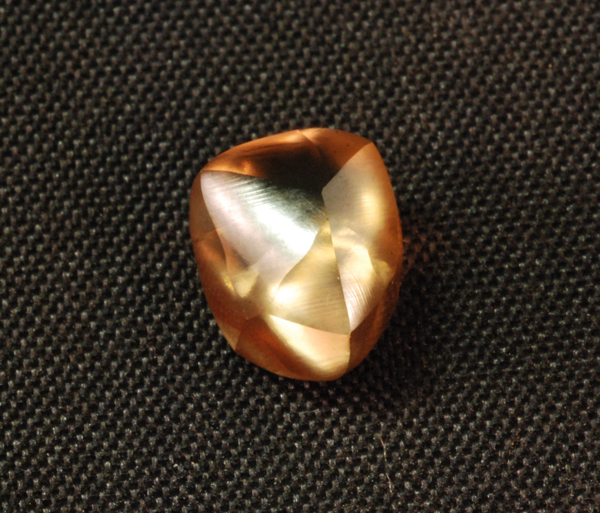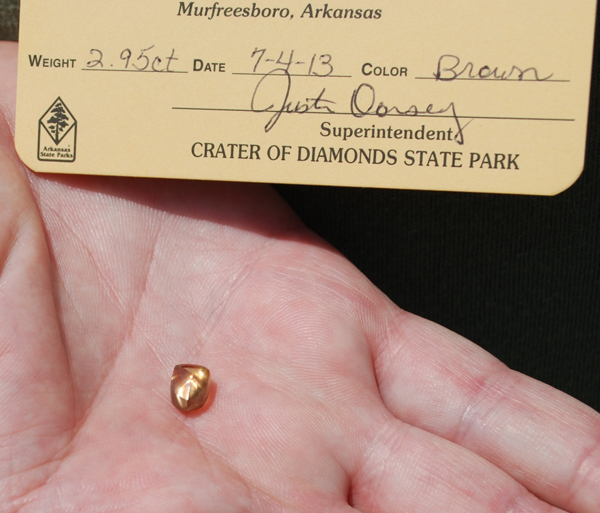 Terry Staggs of Richmond, Kentucky, found this 2.95-carat rough brown diamond on the 4th of July at the Crater of Diamonds State Park in Murfreesboro, Arkansas.
Images courtesy of Arkansas Dept. of Parks and Tourism.
Read more about diamond finds at the Crater of Diamonds State Park:
2.10-Carat Brown Diamond Found at Arkansas State Park

Field Trip? Crater of Diamonds State Park
2.44ct Rough Diamond Found at Arkansas Park Yields 1.06ct F VVS2 Pear Shape