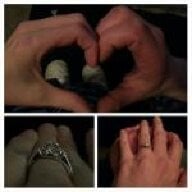 Joined

Dec 23, 2010
Messages

593
ILoveSpinel|1347464657|3266804 said:

I would love to ask for a raise but sadly I work for the government and we don't get to sak for them (and I haven't gotten a pay raise in almost 2 years) I'm thinking of looking for a new job, but in my area there isn't much to choose from, unless I want something that is a very big pay decrease.

I'm sorry you are having difficulties in your finances, that must be hard. I wish I could give you advise or even words of encouragment. we are here to hear what you have to say.
Thanks for your support. I understand what you mean about not much being in your area. It's similar for me, too (I live in a very large suburb outside of Chicago). All the jobs I've found in my field either want an obscene amount of experience, or a Bachelor's degree or higher (I only have an Associate degree). So I could either go back to school, or tough out my job and get more experience that way.
Looks like it'll be the latter, as there's no way I'm going back to school (and incurring more debt) for a higher degree in a field I hate.
I'm sorry you're unable to ask for raises.
May I ask what you do (or is it super top secret?

) I hope you are at least getting good benefits and other decent job perks! (Though more money always trumps benefits and paid days off, IMO).