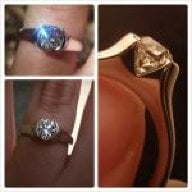 Joined

Oct 2, 2008
Messages

4,946
MBKRH|1354152397|3317905 said:

Thanks. I've never been a fan of it, though. When I was a kid, it was near impossible to find anything personalized. Even to this day, not many places have "Heidi" keychains, etc....

I also hate that you can't use a shortened version of it. I always wanted a nickname when I was young- a good one, not HEIDI-HO!
I understand that! My name is Sabrina and finding keychains and other name things rarely happened for me too. When I was a kid my parents called me Brina (which I don't care for). Add I got older my sisters and friends would call me Briny (breen-ee). I don't mind that casually by people I'm close to, but other than that, I wouldn't go by it. When I first came to college I considered trying to go by my middle name, but didn't. I ended up being Bri (pronounced bree) for awhile but it didn't stick around more than a year or so. I actually liked that one but I also love my first name. I like that it's different, but known and easy to spell.