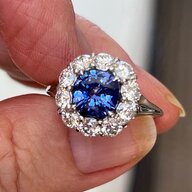 Joined

Aug 18, 2013
Messages

7,629
Hi
@Alex T
! How are you? Have your kids gone back to school? Are they still home schooling? I'm hoping all is going well with you and yours.
Yes, I agree re the video. I just wish I could upload it to youtube at full resolution. But my phone won't send an video that big, so it's always a tad blurry. You do get the general idea, tho. I'm very happy with it!
Thanks so much,
@idealw2boys
! And I *utterly* agree with you that a curve allows each stone to stand out. My side stones are hugely important to me and very sentimental, so I DON'T want them to get lost in a general 'wall of bling'. Is your three stone on PS? Feel free to post a link in this thread if so - I'd love to see it!
Thank you so much,
@elle_71125

Have you been tucked away in the colored stones forum lately? It's nice to see you here on SMTB! And - since I think you have such wonderful taste in colored stones - *please* give me your opinion on my spinel. if you hate it - feel free to say; I'm asking so I'm open to all opinions. Just be aware tho - that stone is flawless; it's just covered with fluff and finger marks. Some day I'll remember to clean my pieces before posting them on PS. Clearly, that day is not today.
And now I'm heading over to the CS forum to see if you have any new projects on the cooker! I hope all is well with you!