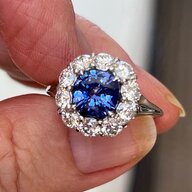 Joined

Aug 18, 2013
Messages

7,629
Hi
@diamondseeker2006
- and thank you for the anniversary wishes! 36 years and counting....
I think my three-stone project proves that all sorts of different sides can look fabulous, so long as they're set in the way that flatters
them
. I remember years ago you helping me out by showing me various combinations of sides, and I particularly loved the .4/1/.4 ratio. This isn't *quite* that (it's .31/1/.31), but it's not bad and, coming up from .2/1/.2, is probably as large a jump as would have kept me comfortable with the new design. And just to put this out there in the universe...I don't see me changing it in the future. I loved the last one, I love this one even more, and I don't see a way of improving on it. I'm also out of finger real estate. It doesn't go *quite* side to side on my finger - but I only see a tiny bit of yellow gold shank, and I *want* to be able to see some band, so this is it for me.
And THANK YOU for your sympathies on photographing colored stones. My word, this one is giving me a hard time. In real life, she's sublimely purple in most lights, and was sold as a purple spinel - but most of my home is either yellow, coffee or greige inside, and those colors don't do a purple gem stone any favors!
And I'm glad you like the pearl. We're going out for our anniversary dinner Saturday next week and I intend to wear it with a black dress and jacket. Ithink it should look very nice - that necklace was made for black.