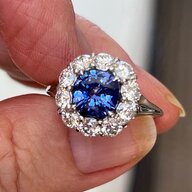 Joined

Aug 18, 2013
Messages

7,629
Project 1 of 3.
Well, I ummed and ahhed for literally years about upgrading the center stone in my three stone. In the end, I decided another $12k for .15mm was just nutty. So...I replaced the sides with something a little larger. I stayed with super ideal cuts, F color, VS2, and went from sides that were 2 x .61 F VS1, so 1 x .95 F VS2 and 1 x .96 F VS2. My center stone is an F VS2, so we've got some nice flow going on!
It's not precisely a 'wall of bling', but it certainly looks more substantial on the finger, as the sides have gone from 5.45mm to 6.35mm, and the change in proportions is definitely noticeable.
Altho I love tiny sides, I actually prefer what I now have. The center stone is still clearly THE center stone, and the ring hugs the finger even better than it did before. It's a little more traditional than previously in its proportions, and I love that. It's just the most stunning ring!