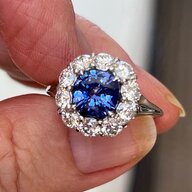 Joined

Aug 18, 2013
Messages

7,833
Happy Tuesday,
@yssie

I think I'll be switching out 2 stones, as apparently 2 of them aren't playing nicely with the others. I have my eye on a pair that might do the job, so we'll see.
Re the spinel, yes, I'll definitely be changing the prongs on the spinel - I' all about cohesion and flow.
And there was never a single second during which I considered doing Tiffany proportions on my 3 stone! Yikes!! My finger, which was originally an 8.25 at its largest, is now a 6.5 and, while stil substantial, would battle to handle that kind of spread! And, frankly, if I had that ind of money to spend, I'd up my center to a 4+ct and go back to a soli, I think.
I bought a 1.05ct AVR from
GOG
and am getting matching 3.5mm sides cut so I can make a platinum cluster. That will be one of my last rings - if not my last. I'm umming and ahhing about doing 2 more, but we'll see. Either way, no more settings will be done this year, apart from the ones already being worked on (2 charm bracelets, rubellite, diamond and pearl earrings and opal drop earrings). I'm also putting the AVR into a temp setting that I already have, and changing the shank and prongs on the spinel ring. After that, I have between 1 and 3 rings to go - and then I've finished my collection. I'm sure there will be the occasional piece here and there - but the 'mental list' will be finished. A reief, really.