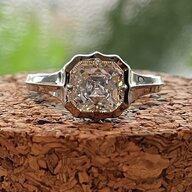 Joined

Mar 2, 2013
Messages

6,224
@psadmin
Stemming from discussion in this thread:
https://www.pricescope.com/community/threads/please-rethink-your-pricescope-privacy-options.252046/
Can you please advise what the various privacy settings/options in our profiles actually mean/show/don't show? For example, what 'details' on my profile are/are not shown via that option? And what 'identities' are/are not shown?
I have all of mine 'locked down' for privacy because I'm not sure what some of those options mean (and clearly I'm not alone). As a result, it's preventing members from also being able to view my past threads, which I don't have a problem with, but not sure how I can allow my posts/threads to be visible while keeping everything else 'locked down' in the interest of protecting my privacy (see above question).
DISREGARD AS THE LINK DOES NOT WORK FOR ANYONE BUT THE MEMBER ...
In the interim, I posted a link to my threads in my siggy;
Wasn't sure if any of these are related to the recent forum updates, but figured I'd post these items here for awareness/visibility. Thanks!

Last edited: