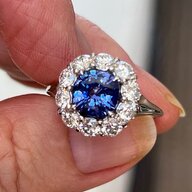 Joined

Aug 18, 2013
Messages

6,146
Since the latest upgrade, I've noticed that more and more people are making their profiles fully private. The effect of that is that it's not possible to easily locate those people's previous threads.
One of the best functions of PS in the past, in my opinion, and one of its greatest joys, has been looking up a favorite poster and seeing all their threads. For people with incredible collections, it's an opportunity to see all their pieces in one easy step, and for convenience sake it's a very easy way of tracking down specific posts that "I vaguely remember included info about (fill in the gap with some random piece of jewelry or info)"
For example, I recently asked a member for info about their gorgeous pendant. I can't remember where I asked the question, tho I *can* remember who the poster is. I wanted to revisit their answer, so looked up their profile and...profile blocked. So I have no way of re-accessing the info they shared with me unless I do...what? Start trawling my way through any thread I've commented on in SMTB? And - since I'm not sure this even WAS in SMTB, do I need to go through Rocky Talky as well to find it? Probably.
Another poster has a beautiful new ring. She shared it on PS a couple of weeks ago. I wanted to take another look and went to her profile. Blocked. So to find it I need to start ploughing through pages and pages of the SMTB forum - which I'm simply not going to do.
Surely a lot of the joy of PS is being able to use each other's knowledge, experiences and collections to expand our own enjoyment of jewelry? But to do that, one needs to be able to access that info in a timely and convenient manner. And having an open profile has one other benefit....
People often ask me for photos of pieces I've previously posted. Taking photos of jewelry is, as we all know, very time consuming. People say "photos, pls!" as tho it's the easiest thing in the world, when, in fact, it can represent hours of time to get photos that accurately reflect these beautiful chameleons. I will often say - "There are photos in a thread about this piece which you can find if you look at my profile." So it's convenient for *me*, as well as others.
It's possible to block others from seeing when you were last online, or what thread you've been viewing, without blocking all your own threads. For all those people who have blocked access to the history of their threads and posts, can you please rethink? Just a thought - and thank you!