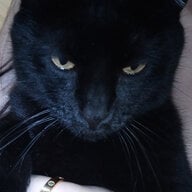 Joined

Jun 7, 2019
Messages

1,436
DW's latest acquisition is a 4.5ct Columbian emerald, bezel set with diamonds in 18K yellow gold:

Interestingly the AGL report giving insignificant to minor traditional oil also includes the statement "This emerald contains fissures which at the time of testing were only partially filled." Haven't seen this one before!

The piece is likely between 20 to fifty years old, and it would appear the stone has never been re-oiled, and some of the original oil has evaporated. The bezel setting is going to make a re-oil rather difficult, for sure a cleaning using hydrochloric acid is not going to happen!

More photos of this south sea pearl, emerald, and diamond convertible necklace can be found in a SMTB thread, link

HERE.
absolutely infatuated with your dear wife's pendant!! i love everything about it! I love the mixed step cut surround. I love the airline gap. I love the orientation. I love the bezeling, throughout. And i love the darling bail!! This piece is very inspiring to me!!