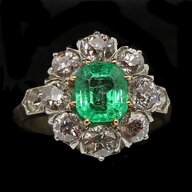 Joined

Jun 1, 2020
Messages

230
Hello again, fellow bling lovers!
I was asked by
@Big Fat Facets
to post a thread about the ring that is my profile picture. I am immensely flattered and pleased that others are interested in this piece that is so dear to me! I wear it every day (it is sharing "hand time" with my moonstone ring, lol) and I love it with all my heart. My husband purchased it for me online, from an antique jewelry seller who also has a brick & mortar store (which I would LOVE to visit!!).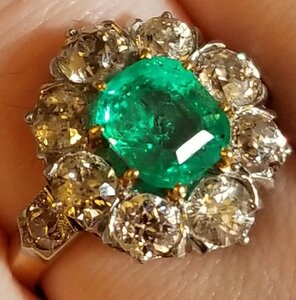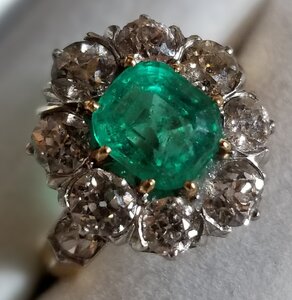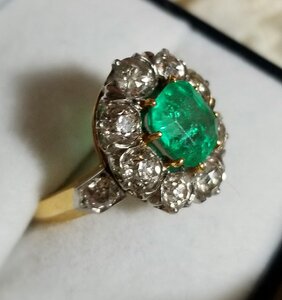 The ring dates to approximately 1890. I love the daisy style that was typical of that period! The emerald is 1.76 carats and the diamonds, which are OEC & G-H colour, total 3.30 carats. There are French markings for gold and platinum on the outside center band. The markings are TINY and very difficult to photograph, as evinced by the following shot (the best one I could get, out of many tries):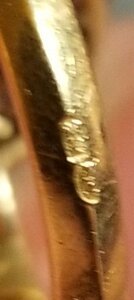 The shank is 18kt yellow gold, while the head is made of platinum. The prongs in which the emerald is set are 18kt yellow gold. There are a lot of details with regard to the ring's structure; it was entirely hand-made. The diamonds are all different depths and sizes, and so the prongs had to accommodate this. The maker of this ring did a beautiful job of making sure the diamonds were set according to their individual requirements, while maintaining an overall symmetry to the ring. Here are some side views: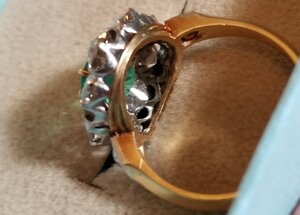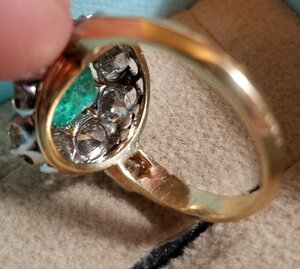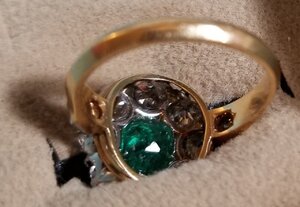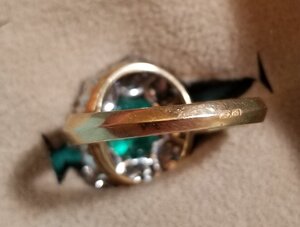 And some hand shots (or should they be called "action shots"?
):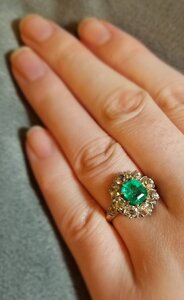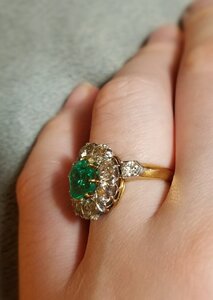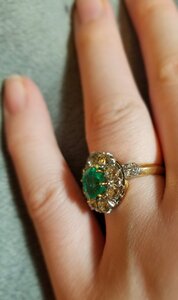 I couldn't resist including a couple of shots of the daisy cluster with a more modern, streamlined design. Both rings are stunning but I think there is more charm inherent within the daisy cluster ring; it simply has more personality to me. Both emeralds are amazing and glow beautifully. The 'modern' emerald is more blue-ish, with some black specks, while the 'antique' emerald is more yellow and, aside from a bit of jardin (which I love, and which is why lab emeralds are just not as nice in my opinion), clear and flawless.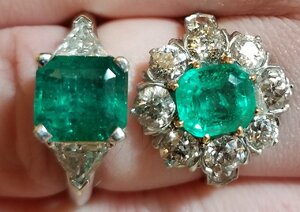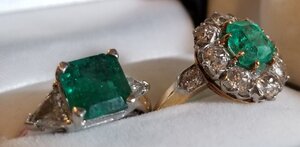 Thank you,
@Big Fat Facets
, for requesting this thread. My husband and I had a great time taking the photographs! If you would like more photos or anything else, please let me know