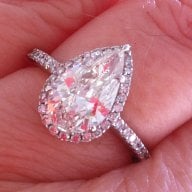 Joined

May 23, 2010
Messages

6,731
Okay, ladies, please let's see those emeralds!


I have only a couple of stones left to set, and one is an emerald (emerald cut, just to be redundant about it) from Dana at Mastercut. It's a 5 x 7 Muzo mine stone, I bought it a couple of years ago, and I still haven't decided on a home for it. Please show me yours, and in a few months, I'll show you mine.

This is also a great excuse for LD to unveil some of her lovelies, since she's reticent about starting her own threads. If she lived near me, I'd go and into her jewelry box . . .

. . . sorry, drifted off there . . .
All emeralds welcome here, rings, earrings, round, square, whatever. They seem to do these kind of "show me your" threads in SMTB all the time, and it seems to work for them, lets see if we can get one going over here.