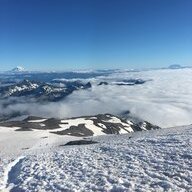 Joined

Feb 7, 2014
Messages

79
I've always had a crush for Colombian emeralds...and given that it's my husband's birthstone, I've successfully persuaded him into getting me one for Valentine's Day
which I intend on making a RHR out of.
As a complete newbie to the world of colored stones...first step was research. The gist of what I gathered is that most Emeralds are treated, the "best" kind is via colorless oil (magnitude varies). Some are treated with colored oil to enhance the color, and some have been oiled over and over which makes the stone more fragile over time(?), and some are filled with resin to enhance the clarify. The stone color/saturation is one of the major driver in price...although there is no "official" ranking of colors (like Diamond has D, E, F etc). Also it seems that most of the emeralds don't come with official certificate (like GIA)?
The struggle I have is that the price is literally ALL OVER the place! I ran searches online via Ebay, Etsy, MasterCut Gems, Gem Rock Auctions,
James Allen
, etc and for the same size, some stones are under $100 and some are even $10k+, which makes it really confusing without having clear set of parameters to look for.
Ideally this is my wish list: Natural (mined, not lab-created) Colombian emerald in a emerald cut, at least 1.5 carat that's not too deep cut so it maximizes the face-up measurements (planned to make a RHR). I *think* my max tolerance is colorless oil treatment, F1 or above (no other enhancement of ANY kind). The colors I'm drawn to are not the classic Colombian Emerald color that's not too dark or light. Ideally eye-clean. Originally I was set on certified stones only (as I cannot imagine buying an uncertified diamond) but perhaps it's not an requirement if I'm getting high quality stone. What kind of price range should I expect for this wishlist?
Am I missing anything else? What are the vendors/shops you guys recommend? I'm currently talking to JR Emeralds who's been super helpful and informative.
Any thoughts/advice are welcome! Thank you