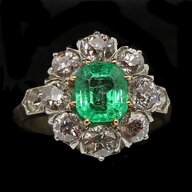 Joined

Jun 1, 2020
Messages

230
Greetings, everyone!
@DauphineMucha
asked for some additional photos of one of my emerald rings. I am grateful to her for asking, and tremendously honoured that people would want to see more photos of my rings. My emerald pretties are amongst my very favourite pieces and it's lovely to have a place to swap jewelry photos and talk about bling
I considered adding the photos to the other ring thread, but my square-cut ring is stately and deserves its own thread. My sincere gratitude to you all for accommodating my whimsy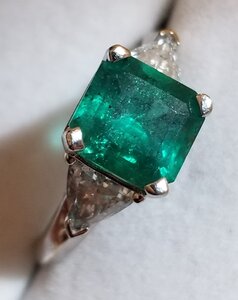 The ring is made of 14k white gold. The emerald is approximately 2 carats and is a wonderful blueish-green colour. It is not the nicest emerald in that it has small black specks (visible in some of the photos), but they're few in number and the stone is otherwise wonderfully translucent. The glow is otherworldly and I really love the blue hue. It's an amazing stone and the reason why I fell in love with this ring. The emerald's pavilion has a really unusual shape, with one side slanting much farther than the other. The last photo in the thread, with the ring lying flat on its side, shows this.
I don't recall the exact carat weight or colour of the two trillion-cut diamonds - how remiss of me! - but it's somewhere around 1.5 carats and E-F. They're on the cloudy side but there is still a decent amount of sparkle there.
I wish I knew more about the ring's history but that remains a mystery. I am guessing it dates to 1960 or later, probably circa 1980-2000, based on the modernistic design; it was around the 1960s when the "square stone with trillion side stones" design became a mainstream thing, but who knows? Part of the fun of owning it is picturing the myriad people who could have, and may have, owned the ring before I did.
Here is the ring next to my other emerald ring, my two favourites: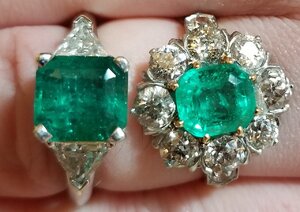 I wore the square-cut emerald constantly until the cluster ring entered my orbit, at which point, I'm sorry to say, the square-cut emerald was relegated to occasional right-hand wear. It deserves better and I am making an effort to wear it more.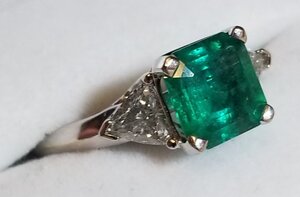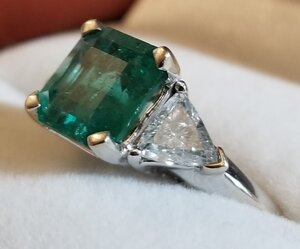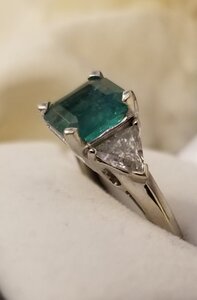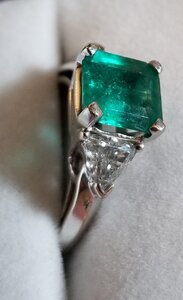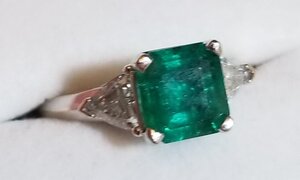 I think the gallery is particularly interesting. It's quite intricate and appears to have been made by hand, as it isn't perfectly symmetrical. The inner parts of the gallery are polished rather than being left rough. I know these aren't the only signs that something was made by hand, but there is a lot of detailing and it doesn't have the look-and-feel of mass-produced jewelry. Who knows for sure, though.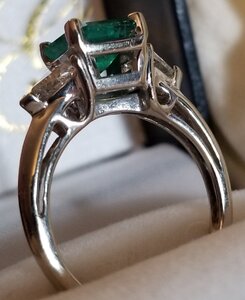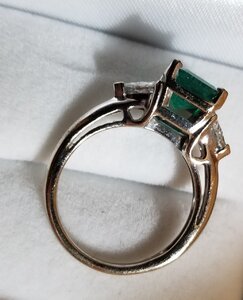 Thank you all for viewing my rings!! I cannot express how honoured I am to be asked to post photos. My sincere gratitude. <3
Last edited: