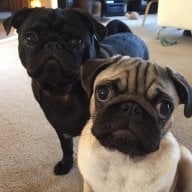 Joined

Jul 18, 2015
Messages

3,986
PumpkinsAreAwesome|1447291522|3948521 said:

The more I look at it, the more I don't mind the shape too much. When I rotate the diamond clockwise and counterclockwise, there are angles there it looks wonky and angles where it looks pretty round! I guess that's optical illusion for you!
If you can find an orientation that looks round to you then you'll likely be able to get it set in that 6-prong you like so that it looks round enough - if Adam is confident it'll look round, you could probably trust him since he's not steered you wrong yet?
What colour metal are you setting it in?