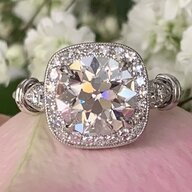 Joined

Jan 11, 2006
Messages

55,799
Re: My Beaudry Asscher Dream Ring (with side pink sapphires)
JaneSmith|1358656166|3360114 said:

diamondseeker2006|1358605165|3359565 said:

JaneSmith|1358570378|3359413 said:

First of all, let me say

Secondly,

Circe|1357829455|3352075 said:

DS, that's

magnificent

. I know you never would, but if you wore all of these fabulous pieces at once, you would have the hands of a Renaissance prince.

I feel a deep need to see this. Please do a gratuitous dripping in jewels photo.

Haha! Thanks, Jane! I have one more ring to finish as well as to resolve my e-ring issue, so I promise I will attempt a group shot after those last two are completed!

Damn, I was hoping for immediate gratification.
Lol!!! I think I posted a picture of the two Beaudry rings on the first page, so go back and take a look at that for a temporary fix!

(thanks so much for your interest!)