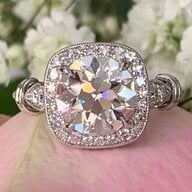 Joined

Jan 11, 2006
Messages

58,485
There is a little story behind this ring, so if you just want to see pics, you can skip this part! Earlier in 2016, a PSer named RainbowRadish found a beautiful antique asscher, 2.73 cts, K SI1 and had Jon at
GOG
call it in and inspect it for her. She is a great antique diamond hunter but could not keep this diamond unless her old one sold, therefore, this one went up for sale. As soon as I saw it on Loupe Troop, I sent an email. But a little while later, I learned that my good friend, Bright Ice, had emailed her before me, so I emailed her again and said I could not make an offer since my friend was interested and had emailed her first.
So Bright Ice bought the diamond and we started having fun thinking about settings for it! But this diamond was quite a bit smaller than her engagement ring diamond, and there had been another very special antique step cut for sale at Jewels by Grace, and it was larger. Bright Ice decided to consider the other diamond before setting this one, and she ended up buying the 3.65 ct antique EC/asscher from Grace. She knew I wanted the antique asscher if she didn't keep it, so Grace sent the larger stone to Bright Ice, and Bright Ice sent the antique asscher to me!!! I never would have thought I'd do K color or SI1 clarity, but this antique stone handles the color very well, and it is 100% eyeclean. The cut is pretty amazing for a stone around 100 years old, too! Table is 51, it has a nice high crown, and measures 8.4 x 7.75 mm.
Here are a couple of great pictures of the loose diamond (photos by Caysie van Bebber).