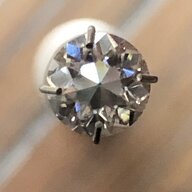 Joined

Jan 24, 2019
Messages

470
Omg that faceting is glorious! And the color is perfect. Not start white but not obviously tinted either. I can't wait to see what you do with it!
Thanks! And you're right, the color is very subtle. There is no yellow in it or any strange coloring; it's just a smooth vanilla.
I think I might be a GH convert after this. While I love the stark white of my rounds, the GH is still very white with better depth.