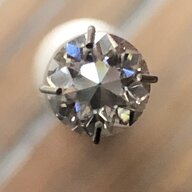 Joined

Jan 24, 2019
Messages

535
There is probably no CAD fee so that is why Tianyu can do it cheaper because it is a design the have already. My only complaint about the Tianyu band is the miligrain edge. I have a bezel/miligrain band from SG that has finer miligrain. The Tianyu one can really cut into my adjacent fingers because it is rough and is a rather deep band. Maybe you can try to ask for a finer miligrain or have them polish it a bit to reduce the roughness.
I wanted to ask you this personally, but there is no PM system on here. What did you think about the French cut eternity ring you have/had from Tianyu (not sure if you have it or not)? I know they're not sparkly, but I've seen diamond French cuts and I love the look, just not the insane price. Did you think that the moissy French cuts are comparable to diamond French cuts? I know that baguette moissys are different from diamonds, but I didn't know if this also applied to French cuts.
This is where my hesitation lies. While the price is decent for the eternity ring from both Tianyu and Starsgem, I don't want to buy French cut moissys if they're going to be duller than their diamond counterpart.