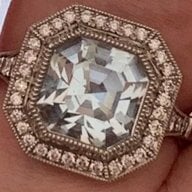 Joined

Nov 16, 2015
Messages

951
@swaye2010

Have you ordered any elongated ACCs from anyone other than SG? I can't keep up with all your projects

I love the facet pattern of the 10x9

@greenteabiscuit

had made. I'm not sure if it's the proportions of the stone, but the culet is shorter than a lot of others I've seen. The only change is I'm hoping they can round the corners out just a *tiny* bit more. I'm also going smaller at 8x7, even though I wear a size 8. I just think 9x8 will be too much for me, personally.

I figured if anyone knew what they were capable of with customizing cuts, it was you!

I thought I saw youd mentioned that you had one cut more square and one more rounded, but then again, I read a LOT on here and have a terrible memory.
The two I have custom rings being made for are stones from SG. I just don't like the pinwheel culet look of the Tianyu version. I am sure they could cut it the other way too, I just haven't seen a version from them yet. I have it both ways. The 11x9 is more rounded with long thin culet and the 11x10 is more square with a short culet. If you want a version like that and slightly smaller, you can go for the 8x7 to get that look. I do have to say that a 2.5 carat cushion looks like a 2 carat round so keep that in mind. I think you've said that 1.5 to 1.75 is a sweet spot for you so probably 8x7 would work. I would think in a simple solitaire could be done in 9K pretty cheap. I have some antique 9K jewelry I inherited and it does still look a lot like the 14K gold. It just has a bit more of an aged look to it.