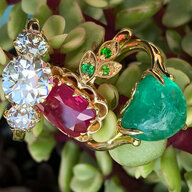 Joined

Oct 19, 2013
Messages

2,978
This is super helpful. I just started a project with him, and am anxious as I am on a very tight timeline. I am curious - how long did your ring take from start to finish? Fingers crossed it works out, thank you for sharing your experience!

I think the outcome is just FABULOUS! I was ogling your ring on Instagram and think the deep colored spinel is just perfect for the setting. It is moody, edgy and just luscious.
Thank you - fabulous is a good descriptive
As for timeline of mine - I don't think knowing that will assist you in any way. Mine encompasses the whole Covid shelter in place and essential business only timeline. I know mine wasn't the first in que, and I know certain accounts of his take priority. And that's ok. I don't think that's uncommon in small operations like his. And like said upthread by someone already - he doesn't do things halfway. It takes as long as it takes.
This may be too forward, but if you have a very tight timeline as you stated, I hope you have had crystal clear communication. That's essential for him to know to also able to be crystal clear to you on whether it's feasible or not. I'm not quite sure how any vendor can guarantee that anyways. Crap happens.