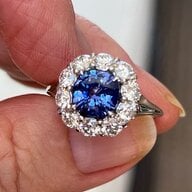 Joined

Aug 18, 2013
Messages

8,936
Thank you so much,
@Lookinagain

How did you hold up during the snow yesterday? Wasn't it DEPRESSING! Just when I'd really decided - this is it! - This is SPRING!....nope. I really *do* think, tho, that this cool weekend will be the last of it. I just refuse to accept any more days in the 40's!!
Hey there,
@oncrutchesrightnow
! Is your princess cut diamond on PS? I'm off to go find it! And I'm glad you came back. And I'm *particularly* glad that your knee is better.
@Daisys and Diamonds
- Gary and I will have to have 'words' if he cuts down Mrs B before she does her flowering thing! And thank you for your well wishes and kind words.

<3