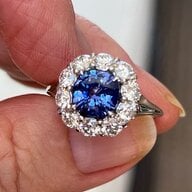 Joined

Aug 18, 2013
Messages

8,923
Today I received a jewelry delivery from David Klass Jewelry - always the best days of any week! All were tweaks, repairs or remakes, so there's nothing here that's terribly new. But all pretty, so I thought I'd share.
First up is my wedding ring...of sorts. The diamond from my engagement ring was stolen by the jeweler who set it into one of his settings. It was only small, but of good quality, and had previously been my deceased mother's engagement diamond. My father gave it to us when DH and I were engaged, and we took it to a small jewelry store and asked if we could replace the diamond in a pre-made ring with our own diamond. The man we spoke to said yes...but the answer was ultimately, apparently, no. He left the original diamond (smaller and lower clarity) in our ring and closed up shop 2 weeks later, taking our diamond with him. We only realized when we had it appraised some time later and realized the diamond in our setting was 25% smaller than it was supposed to be. Hmmmm. So there went any sentimental value we'd had for our engagement ring! When we were married, I had a wedding band in yellow gold with a small white gold inset, which held 10 tiny diamonds. And - surprise! - I'm allergic to nickel! Who knew?! Certainly not us when we bought the ring! We were unable to return it, so the end result was that I went for years wearing no ring at all. One day, years later while doing a little vacation shopping, we wandered into an antique store with a small antique jewelry display. There was a white gold 12 stone OEC diamond band ring - 6 pointers - made in 1910. My husband surprised me and bought it on the spot, and it became my engagement ring and wedding ring combined. I've worn it a *lot* over the years and had it resized (badly), one diamond replaced (beyond badly!), and slowly watched the rhodium wear away, leaving me with something an 'odd sort of drab metal' color - with an entirely different colored insert from where it had been resized!
I sent it off to DKJ where they took out the newest diamond (completely cloudy - like - utterly) and put in something that sparkled after rebuilding the prongs! Hurray! And then they rhodium plated it 3 times! It looks AWESOME! It's prettier than it's ever looked, and I absolutely love it!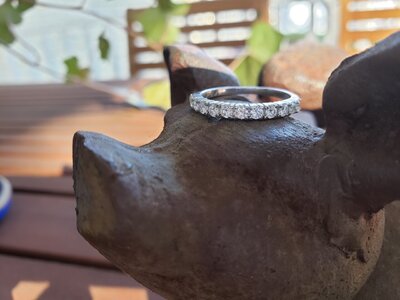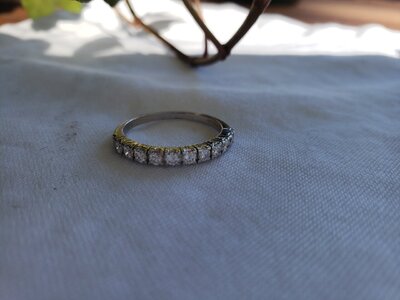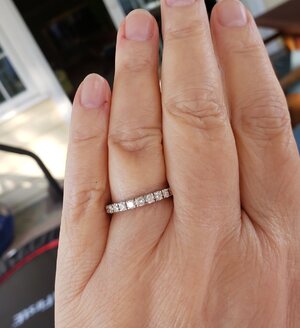 Last edited: