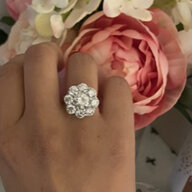 Joined

May 31, 2010
Messages

42
Hello everyone!
I can't believe I've been a member for so long and this is my first thread. I've certainly enjoyed reading and learning from everyone's posts over the years -- so thank you all for always taking the time to share!
My predicament. My mom gave me her old ring and ring jacket. It's a 2.05ct round diamond set in a simple YG solitaire with platinum prongs. She doesn't have any of the paperwork anymore, but she purchased it pre-set in the setting in I think the 80's so I suspect the ring is uncerted. I also could not locate any kind of laser inscription on the girdle. The ring jacket has 12 small round diamonds that are probably somewhere between 1.5-1.8mm each. My 10 year wedding anniversary is coming up, so I thought about taking the stone and having it set as a modern in antique style diamond cluster ring (inspiration pics that are probably well known in this community, attached), and setting the 12 small diamonds into a thin half eternity pave band to wear alone or to stack with the cluster. Resets are always hard because you usually need to invest a good chunk of money, and it's hard to weigh whether it's "worth" it. I recently put money into a reset project with Jade Trau, but it was worth it to me because it combined stones from my rings from my husband, some gemstones from my mom's old rings, and diamonds from my grandmothers old rings.
In this case, I think I'd like to do the project because I certainly wouldn't ever spend to buy the actual antique ring with the doorknob sized center stone I'd want

so this seems like the best alternative to have the look I want in my collection at a fraction of the cost. But even at a fraction of the cost, I keep wondering if it's worth putting in all this work for this particular stone. Is it still better than having it laying around and not getting wear?
If you followed this stream of consciousness - and have wisdom you'd be open to sharing, I'd appreciate it very much!