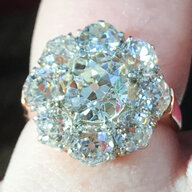 Joined

Nov 17, 2013
Messages

1,795
Hi! Back in February, Grace posted a short video of an antique old mine cut diamond cluster ring that took my breath away! It was the cluster ring of my dreams, the one I had been envisioning for years (since before we had chosen my solitaire because my husband had wanted me to get a solitaire instead of a cluster). I asked the price and committed to it before even speaking to my husband.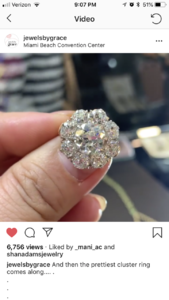 I got the idea to get him on board by offering to sell my solitaire (we had gotten it for our 10th anniversary and we are now married 16 years), and pointing out that there would be surplus money left over after paying for the cluster and selling the solitaire. He must have been able to feel my excitement about the cluster, and he let me do it. I paid Grace for the cluster, got it and fell in love, and then I sent her the solitaire. It was in its fifth setting since I'd gotten the diamond, as I was never quite happy with the fact that it was not an old cut diamond (my husband had also pushed me to get a brilliant cut, which was his preference, and it was an early round brilliant).
The cluster ring is estimated at 5-6 carats total, and it has quite a spread! It's almost 17mm! Here it is compared with the 5.01ct solitaire (I had them both for a day).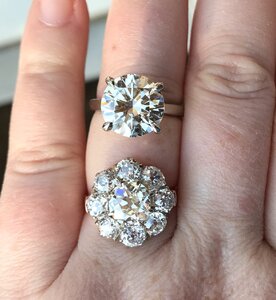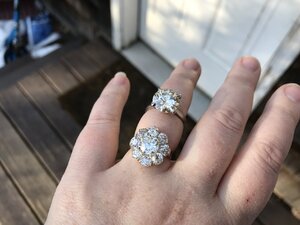 It took a while to sell the solitaire, but it finally happened, and now I don't feel guilty owning the cluster! I love it so much!! I was concerned about some of the worn prongs, and Grace had it totally fixed and spruced up for me, which was wonderful! This next picture is her picture after the prongs were reformed. My pictures were taken before then.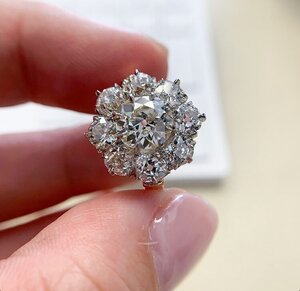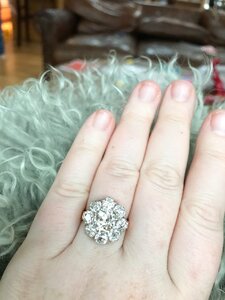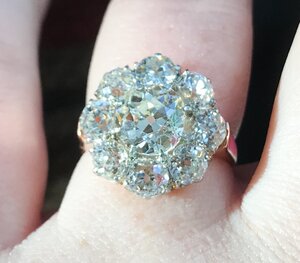 Last edited: