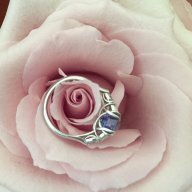 Joined

Oct 29, 2012
Messages

352
Hi All,
I'm new to the diamond side of things and was thinking about getting a stone set.
I noticed there's been a smaller amount of people who are setting with VC, LM and SK? Any speculations?
Also, when calculating coverage for a multistone ring such as 3, 5 or 7 stone ring how do you decide what is enough coverage? I'd ideally like full coverage side to side but I thought it'd be fun if there were other engineers or nerds who did calculations like 33% circumference= full coverage.
I broke in and did a powerpoint mock up on my finger. The reason the baguettes are so short were to preserve the graduation of stone size for the gallery view. I had originally wanted to do a Yssie 5 stone trellis but already got a veto from LM. VC also admitted it wouldn't be particularly attractive and that a three stone might be better. I'm thinking about pears for side stones.
I'm struggling with what vendor to choose. Right behind SK, I was thinking about contact ERD for the lovely work Mark did with Valmanin. Recommendations?
My stone's stats are a roval 6.6x7.6mm