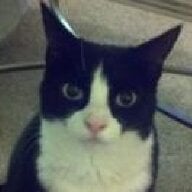 Joined

Aug 8, 2005
Messages

40,198
No you are exactly right. And whether one is better than the other depends on the design of the ring in question.
Do you know anything about metal work? Let's use the example of swords.
"Forging and casting are two very different manufacturing methods. When something is cast the material is heated above its melting temperature and poured into a mold where it solidifies. When something is forged it is physically forced into shape while remaining in a solid state – although it is frequently heated."
Casting a setting means that liquid metal is poured into a mold. Then it's allowed to cool, is removed from the mold, and then goes through a polishing process. This means it might be subject to porosity caused by air bubbles that are not beaten or worked out of it, like you get with handforging. It's faster, easier and therefore costs more.
Handforged means that the jeweler takes hard metal, and works it by heating it bending it, folding it, beating it. Similar to blacksmith forging a sword. This means less porosity, finer grain structure, higher tensile strength, better fatigue life/strength.
Now the two swords may look identical at first glance. And if you are talking about an ornamental piece or a piece that will get no real wear and tear (no battle), you might as well go with the cast sword, right?
But which one do you want in a real battle? Well, the forged sword of course.
Now you are thinking, but this is jewelry not life and death. And you are right. But the same principles apply.
You are not talking about a cocktail ring or a right hand ring that you may wear a couple days a month. Or a brooch that sits on your chest, or a necklace that hangs from a chain. You are talking about an engagement ring that will be worn 24/7 (by most people) on their hands. Hands are very active.
Still, for things like 2.2mm solitaires or thick metal designs the difference in tensile strength and better fatigue don't matter as much. There is enough metal there that the piece with be strong. And for pieces with designs that require exact optical/physical symmetry with metal casting is superior.
But with pave halos of the style you are looking for that's not the case. You are usually talking about 2mm of metal or less. And then in order to set the stones, you riddle it with holes like swiss cheese.
Micro pave is fragile. There are two main styles. Bright cut, where the stones sit in a channel and have some protection. And V-cut (lots of different names for this depending on who you are talking to). The soliste is v-cut. You take a straight piece of metal and then you cut v-shaped cups out of it in which to set the stone in.
So right there as an engineer you can see how cutting out a row of cups from a piece of metal creates weakness. So the metal is weakened. Now, white gold is harder than platinum but platinum is stronger. That strength is needed due to the 'cups' that are weakening the metal. But that's really not enough, the fabrication method matters too.
Next is the actual setting of the stones. You are talking TINY stones . The maximum size of the stones in a double halo (and yours will be smaller than this, likely about 1mm each) is 1.3mm for a one point stone. Look at the below: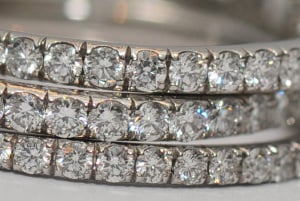 Now those stones are 1.3mm or smaller. How big do you think those prongs are holding the stone?
TINY. TEENY TINY. And they do NOT size well. Taking a setting up or down in size is a NICE way to weaken that further.
So you have a bunch of tiny stones, held by microscopic prongs onto a piece of metal riddled with dips that weaken it.
Can you see why that might be fragile? Especially when worn on the hands? Have you ever noticed how often you use your hands and bang them against things like :the bed frame, the kitchen counter, anything you pick up period... It's not ONE single hit that kills the pave. It's HUNDREDS of small ones, every day you wear it. Yes, a finger can exert a lot of pressure and more than enough to knock one of those stones free. Or even crack a diamond itself (I've done this myself, I used to sleep with my pave ring, then in my sleep I hit my ring JUST at the RIGHT angle and cracked a diamond completely).
So you take that. And you make it into a ring that goes around your finger. That's nice low to your finger and protected. And you make sure to keep the width to 2mm for strength. That's fine.
But then you make it into to halo and put it around a stone that is sitting above the finger and you can't keep that to 2mm on the halo, because you want a delicate look. So that gets less safe because of where you wear it and because of the metal being thinner.So tensile strength and metal fatigue REALLY start to matter.
So pave really is a luxury item. Not a workhorse. And yet, everyone these days wants it on their workhorse engagement rings. So... all you can do is use the strongest method you can afford for fabrication and baby it when you wear it.
Okay?
So no. It's not a FAD. Pave is the FAD. It's very hot right now. So, as a result of pave being popular, and people NEEDING rings that are manufactured to last, handforging has become popular.
Now if you told me you wanted a thick metal bracelet, or a pendant. Or even a RHR. I wouldn't be making this recommendation. But you aren't buying any of those things. You are buying a LARGE rock that is going to sit on a finger every day in a setting riddled with holes studded with tiny stones held in place by teeny tiny prongs. So yes, I am recommending handforged.
And yes, it costs more. Just like the forged sword would. Because much more labor and SKILL goes into it's construction. But in this case engagement ring is the equivalent of the sword you take into battle. Not the one that hangs on the wall. And the DESIGN and the engineering of pave requires that extra strength. If you can afford it.