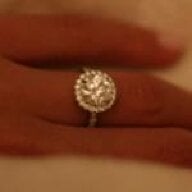 Joined

Mar 12, 2009
Messages

785
the amazing
Victor Canera
completed this ring in 10 business days, and was so kind to coordinate with Malca Amit so that the mailing of the ring (both ways) was fast, safe and inexpensive !
100% Hand Forged Setting:
- 90% platinum with 10% iridium
- shallow u-cut pave (aka cutdown pave)
- 1.8mm uniform hand forged wire shank with single row pave, ending at 5 and 7 o'clock
- center diamond set at 7-7.25mm
- small donut at about 5mm in diameter, with pave
- curved wire struts with pave
- halo to tilt down at 25 degrees, minimal metal at the lip of the halo, so for the halo part this was achieve with hand forged PLATE (like a slab), not the WIRE shaped metal which is only possible if the halo is at 0 degrees tilt / leveled with no tilt.
- 1.5mm halo viewed from top down, so the actual width of the halo would be about 1.7mm if the halo would tilt at 25 degrees downwards (used trigonometry for this calculation!)
- diamond melee size on the halo must be absolutely uniform so that the halo is absolutely in the shape of a perfect circle. spaces between each melee diamond on the halo must also be uniform and not irregular
- absolutely no metal between center diamond and halo, absolutely no airline
- center diamond is set off-square so that the claw prongs would rest on the kite facets of the diamond and also point at the corners of the table exactly
- Victor used 0.75ctw in melee diamonds on the setting, F-G VS+
I'll start off with the ring making process...
**edited by moderator. please comply with our policies regarding photo logos in the SMTB forum**