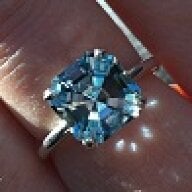 Joined

Jul 21, 2008
Messages

4,881
I'm going to start posting some details about my 6-20-09 wedding in Rhode Island!
Attire
My Marisa 737 Dress in Ivory
FI is going to wear a medium/darkish grey pinstriped suit he already owns from Ralph Lauren. Its tailored nicely and looks great on him. He is going to wear a white Calvin Klein French-cuff shirt I gave him this past Christmas with some cufflinks my father gave to him. I also bought him a pretty silk tie in a nice shade of blue/green. He looks so handsome in blue!
Accessories
My Engagement Ring


Wedding Necklace
I am going to make my own veil and put some Swarovski crystal beads on it for a little sparkle. I also want to make some aquamarine drop earrings and embellish a comb with some freshwater pearls and aquamarines for after I take my veil off. If I don't do the comb then I want to order a hair flower from Etsy. I think they are really darling. I am also considering getting hair flowers for all of my BMs. I think that they will all wear their hair up.
I have two wedding bands in mind right now. I am ordering them both and then I'll send back the one I don't want.
Danielle from Whiteflash in Platinum
5-stone Shared Prong from Whiteflash in Platinum, 0.25 carat total weight
Hair

I want to do something low in the back for my hair. Something sort of like
this.
Bridal Party

I have 5 girls in my bridal party. Even though we are downsizing the wedding I couldn't imagine getting married without these girls up there with me. There will be almost as many people at the altar as there are in the seats but we don't mind.
I asked the girls to get a knee-length dress in some shade of blue. To help narrow down the shades I told them to go to the David's Bridal website and look at Horizon, Cornflower, and Pool. One girl is going to get her dress there:
One BM's Dress
We are going to ask the other men in the bridal party (the dads, his cousin, brother, and two friends) to wear a suit with a white shirt. We plan on giving them a nice blue tie to go with their white shirt. I think that the bridal party will look somewhat cohesive.
Flowers

I am in love with high petal count flowers like peonies. I would LOVE to have a mix of pink and white peonies in my bouquet. We might go for this splurge sinec we downsized the rest of the wedding. If I can't do peonies I think that I'd be happy with cabbage roses or any of the other peony alternatives posted in the thread Deelight started a few weeks ago.
Dream Bouquet on The Knot
I will probably order an assortment of pink roses to make bouquets for the BMs and have pink roses used in the bouts for the men.
Photographer


We haven't booked a photographer yet but we are in contact with a couple we really like.
Phil Seaton- Living Photo
Kyle Coburn
Phil is local to the wedding and Kyle isn't. I've loved Kyle's work ever since I came across his site back in December. He would have to be flown in but we would get 2-3 days of coverage from him (including our day after stuff). I think that his cost (with an album and printing rights) would be around $4000 and the other guy would be around $2700 with no album (but 350-400 proofs printed and a DVD of high res images for our own printing) and only coverage on the day of the wedding. Opinions on these two guys welcome.
Rehearsal Dinner

We want to do something casual and laid back since we will be having the formal dinner for our reception. My family really enjoys Anthony's Seafood in Middletown, RI. They have great fresh stuff (from what I hear, I don't like seafood) and FI is borderline obsessed with their Kung Pao Calamari. We think this will be a fun way to end things on Friday night before we get married on Saturday.
Church

I can't find a picture of the church but it is on the campus of my alma mater- URI. I want to do bridal party pics and family pics before the ceremony on the campus quadrangle. There are some pretty stone buildings there and lots of trees.
URI Quad
Reception

Dinner... in Newport? Thats all we know so far. We are going to visit with the people at The Mooring and 22 Bowens which are both in downtown Newport. I am confident that one of these places will work out. I've eaten at them both and The Mooring has a waterfront dining room.
This is a link to the pdf for their private dining guide. I am thinking that the Harborview Room might be nice. Its waterfront with a deck attached. Perfect for cocktail hour.
The Mooring Private Dining Guide
Then we want to treat our friends to some more drinks in Newport after the dinner has ended. I think that I might change out of my gown and into a shorter more flirty white dress.
Suggestions welcome for this.
The Day After
As I posted in my other thread my father really wants to charter
American Eagle
for a sail around Narragansett Bay the day after the wedding. The down side is that they only can accommodate 15 people max. We are also talking to the people who own
The Schooner Madeleine
which can fit everyone.