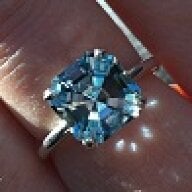 Joined

Jul 21, 2008
Messages

4,881
I went up to RI this weekend to take care of some wedding stuff.
FI and I accomplished the following:
- completed church paperwork for our ceremony
- got marriage license (RI is a cheap one! only $24)
- checked out our reserved space for our reception dinner, didn''t like it and found another one
- met with three photographers and chose one
- went BM dress shopping with two of my BMs. 1 of them found a dress
When I got back to PA my wedding bands (gotta send one back though) were sitting at the FedEx facility for pick up. I think I''ll be keeping my
WF
5-stone 0.25 carat total weight band. I love the Tiff Jazz/
WF
Danielle but my e-ring shank is just too beefy for it. Totally dwarfs the bezel band.
When I got back to my house my great eBay J Crew Sophia Dress find was sitting in my living room. The dress is gorgeous and I can''t wait to see my MOHs in the dress. It was as light as a feather! Now 3/6 have a dress.
Best of all..
MY WEDDING DRESS WAS AT WORK WHEN I CAME IN THIS MORNING! It actually arrived on Friday but I was away so I couldn''t see it until today.
I thought I would need it hemmed and taken in at the hips but I tried it on and it fit perfectly on my waist and bust (well it will fit in the bust with cups or a strapless bra on) and the hem length is PERFECT! I am wearing flats and in my bare feet it just hardly touched the ground. That''s a huge savings in the alterations department!
All of the women I work with made me try it on in the conference room. There are so few women where we work that they get super excited about something that is girly and not engineering related. Made me so excited for my wedding!