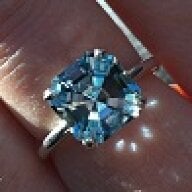 Joined

Jul 21, 2008
Messages

4,881
I was given this necklace when I was really young. Probably 10 years old. I really didn''t care for diamonds (well, don''t really think I knew what they were or why people loved them) and I left it with my mother for the last almost 17 years. Finally on my last trip home I had her take it out of the safe. It was so gunked up with who-knows-what. I took it to my e-ring jeweler and they cleaned it up and gave me a rough estimate on value. Unfortunately one of the stones fell out while they were cleaning so I am waiting until I save up some money to pay for the stone to be re-set and have it fully appraised for insurnace.
I have no idea how she got this necklace!
I know this much:
It is platinum.
The pearl is not a farmed/cultured pearl.
The bigger diamonds in the chain are some transitional cut (don''t know enough to know if they are OMC, OEC, or whatever) and the little diamonds in the halo around the pearl are single cut stones.
My favorite parts of the necklace are the transitional cut diamonds with culets and the milgrain work on all the bezels! I also adore the grayish tone of the pearl.
So without further delay here are some pics of the necklace I intend to wear for my walk down the aisle!
***I want to note that all of these pics except one have been adjusted for brightness and contrast. For some reason, even though I took these pics in blazing high noon sunlight, turned out incredibly dark. I don''t know how to adjust the settings on my camera to fix this problem!***