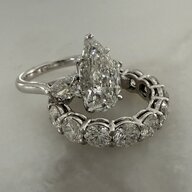 Joined

Jun 9, 2010
Messages

843
So I am down a serious Rabbit Hole as I contemplate my Upgrade...Glad I can share this First World Problem with my friends who understand this Journey ! I have been all over the gamet, which is why I haven't pulled the trigger over the last 2 years. I currently have a 2.5 OMB, she is Beautiful, and Halo'd, but that Darn DSS has kicked in BIG TIME, and as much as I love my setting, I feel like I have outgrown my Halo. I really just want one Big Solitaire. My Original setting was a simple solitaire with 2 flanking Bullets, I then Halo'd it because an upgrade was not an option at that point, and the setting sufficed for 7 years. I started to explore Emerald Cuts, but quickly learned I am not a Step Cut kind of Gal, especially after owning something with such sparkly Chunky Facets... I looked at Ovals and Pears for Spread, but realized it was more for the spread than the cut. I even explored the world of Lab diamonds, but at the end of the day, just wasn't a mind clean decision for me, at least not for the center stone...

I was led back to Old Antique cuts again, which is what really makes my Heart SWOON . So while looking at OMC's and OMB's, I came across OEC's with a whole new appreciation...You see, I don't really love Round Brilliants, they are beautiful, however, just not my thing... so I NEVER really considered OEC's because I thought they would give me that same "vibe" but the more I explore Dolly, OWD, JBG, etc. and their settings, the more I am leaning towards this cut. OMB/OEC's are absolutely beautiful, but the older ones can come with a bit of wonkiness, and they are becoming even harder to come by. So now my quest is leading me towards an OEC, 4 Carat-ish (ideally 10+mm), the spreadier the better... I am just now torn on how warm I want to go? Ideally would stay in the L-M-N Range...but my Budget may not allow it. I am going to have to part with my current Diamond to fund this project, and will keep the setting and put a colored gemstone in its place. I plan to have her set by DK, unless the seller has a killer bench.

So please SPAM me with your OEC's below, and please share measurements if you have them!! Feel free to share your story on how you acquired her, because it may be helpful to those who are on a similar journey!

Thanks, everyone!