By
Erika Winters
…and in rare blue diamond news, M.S. Rau Antiques has debuted the "Royal Blue," a 10.06-carat natural fancy-blue diamond. The remarkable blue diamond–set in a ring with 96 pink diamonds in rose gold and 62 white diamonds in platinum–is being offered by M.S. Rau for $9.8 million.
The "Royal Blue" joins the ranks of other notable blue diamonds that have made headlines in 2013, including the "Premier Blue," a 7.59-carat fancy-vivid blue diamond that is expected to fetch $19 million at Sotheby's Hong Kong this October. Additionally, a 5.30-carat fancy-deep blue diamond ring by Bulgari sold for approximately $9.6 million at Bonhams last April–far exceeding its $1.6 to $2.4 million estimate.
Natural blue diamonds are highly coveted by collectors for their rarity and beauty. Less than 0.3% of all naturally colored diamonds graded by the Gemological Institute of America (GIA) in recent years were predominately blue. The "Royal Blue" was graded natural fancy blue by GIA. The gem is a rare type IIb diamond, which means that it contains the trace element boron, which causes blue color in diamonds. Blue diamonds of this size and color rarely appear in the marketplace, and according to M.S. Rau it is one of the only 10-carat-plus diamonds available for sale in the world.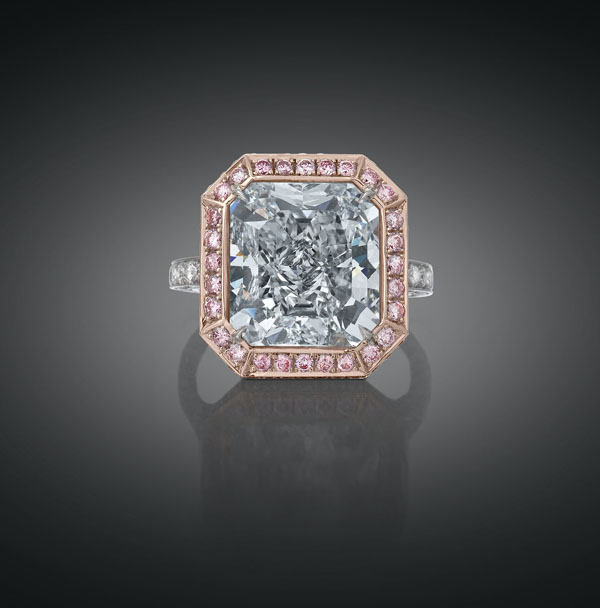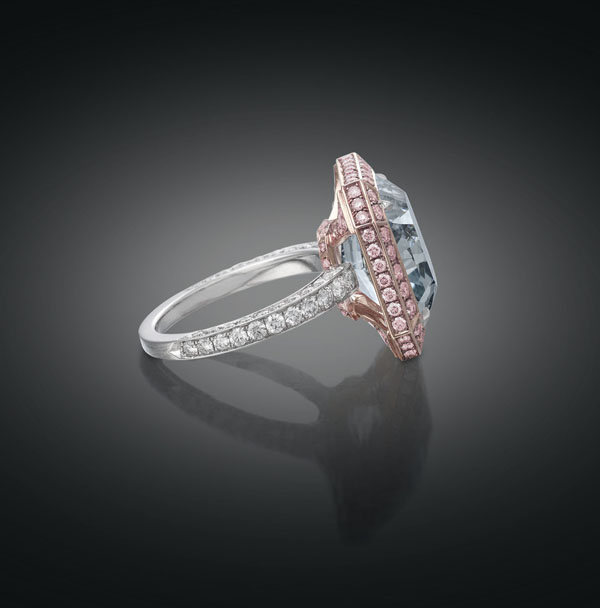 The "Royal Blue" diamond ring is being offered by M.S. Rau Antiques for $9.8 million.
Images courtesy of M.S. Rau Antiques.
More fancy-colored diamond news:
Rare Diamonds, Custom-Designed Jewels to Highlight Sotheby's New York Autumn Auction

Sotheby's to Auction Rare 7.59-Carat Fancy Vivid Blue Diamond
Fancy-Colored Diamond Exhibition at the Los Angeles Natural History Museum