By
Erika Winters
On October 7, 2013, Sotheby's Hong Kong will auction a 7.59-carat fancy vivid blue diamond at its Magnificent Jewels and Jadeite sale. Dubbed the Premier Blue, the rare gem is the largest round-brilliant cut, fancy vivid blue diamond ever graded by the Gemological Institute of America. The internally-flawless blue diamond, which is said to be the size of a shirt button, is expected to fetch a world-record price of $19 million.
The Premier Blue's upcoming sale marks the 40th anniversary of Sotheby's Hong Kong and joins the ranks of other rare blue diamonds that Sotheby's has sold for record-setting prices.
"Sotheby's has been entrusted with many important blue diamonds and holds the current per-carat price record for a Fancy Vivid blue diamond at auction (with the sale of a 6.01-carat Fancy Vivid Blue Diamond which achieved US$1,686,505 per carat in Hong Kong in October 2011). This Autumn we are thrilled to offer the Premier Blue, an unusually beautiful and rare treasure of round brilliant cut as well as Internally Flawless clarity. The Premier Blue, weighing 7.59 carats, is the world's largest round Fancy Vivid blue diamond to appear at auction as well as the largest one ever graded by GIA," said Quek Chin Yeow, Sotheby's deputy chairman, Asia.
Blue diamonds are among the rarest gemstones worldwide, and those that achieve the coveted "fancy vivid" color grade are highly sought after by collectors. Natural blue diamonds' color can be attributed to the trace element boron. And more vivid and "pure" hues with evenly-distributed color command the highest prices. According to Sotheby's, the Premier Blue displays an "even and saturated pure blue hue."
The Premier Blue will be previewed around Asia in addition to stops in Geneva, London, New York, and Doha, before returning to Hong Kong on October 7, 2013.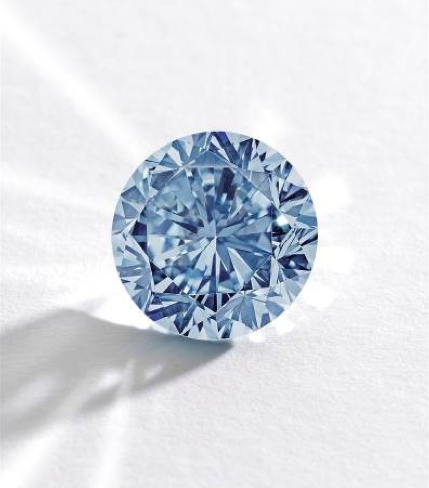 The Premier Blue, an internally flawless, fancy vivid blue diamond, is expected to fetch $19 million at Sotheby's Hong Kong on October 7, 2013.
More on fancy-colored diamonds:
Fancy-Colored Diamond Exhibition at the Los Angeles Natural History Museum
Fancy Colored Diamonds to Dazzle at Sotheby's Hong Kong Spring 2013 Auction

The Most Expensive Jewelry Ever Sold at Auction – Infographic