By
Erika Winters
A rare 5.30-carat blue diamond ring will lead Bonhams Fine Jewelry sale on April 24, 2013. The fancy deep blue diamond is set in a Bulgari "Trombino" ring, made circa 1965. The ring is expected to fetch £1,000,000 to £1,500,000 ($1.6 to $2.4 million) at Bonhams' upcoming auction.
"Blue diamonds, especially those over 5.00 carats, are extremely rare to see on the market and continue to be highly sought-after. During the 1960s and 70s Bulgari was well known for its imaginative settings and use of colored diamonds making them one of the most innovative and fashionable jewelers of the time. This ring epitomizes that 'golden era' of elegant simplicity, and we are honored to be handling the sale of such a unique gem," said Jean Ghika, Director of Bonhams Jewelry Department for the UK and Europe.
Natural blue diamonds are among the rarest of all fancy-colored diamonds and command some of the highest prices at auction worldwide. Bonhams also sold a fancy vivid blue diamond ring by Bulgari for £1,900,000 ($2.9 million) in September 2011.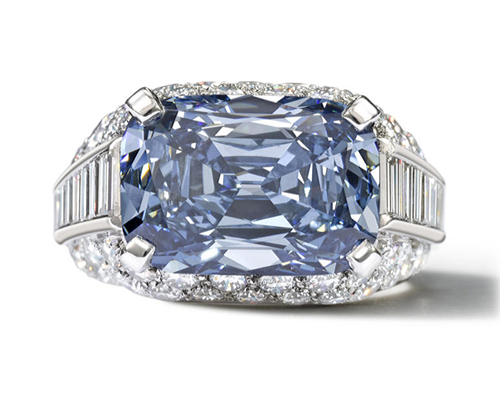 A rare 5.30-carat fancy deep blue diamond set in a Bulgari "Trombino" ring is estimated to sell for $1.6 to $2.4 million at Bonhams Fine Jewelry auction on April 24, 2013. Image: Bonhams
Related Topics:
Fancy Vivid Blue and Orange Diamonds Set Auction Records
Elizabeth Taylor's Bulgari Sapphire Sautoir and Trombino Ring