By Erika W.
Highlights from the Elizabeth Taylor Jewelry Exhibition
From the Bulgari Sapphire Sautoir to multi-hued sapphire "ball" earrings by JAR, Elizabeth Taylor's jewelry is as diverse as her on-screen personas and marriages. It is a rare treat to see these jewels in one room, so we highly recommend a visit to one of the following exhibitions. Proceeds from ticket sales support The Elizabeth Taylor AIDS Foundation.
October 13-16, Los Angeles, MOCA Pacific Design Center, 8687 Melrose Avenue, West Hollywood
October 23, Dubai, Jumeirah Emirates Towers, Sheikh Zayed Road
November 11-12, Geneva, Four Seasons Hotel, 33 quai des Bergues
November 16-17, Christie's Paris, 9 avenue Matignon
November 24-27, Hong Kong Convention and Exhibition Center, Wanchai
December 3-12, Christie's New York, 20 Rockefeller Plaza
The Bulgari Sapphire Sautoir and Trombino Ring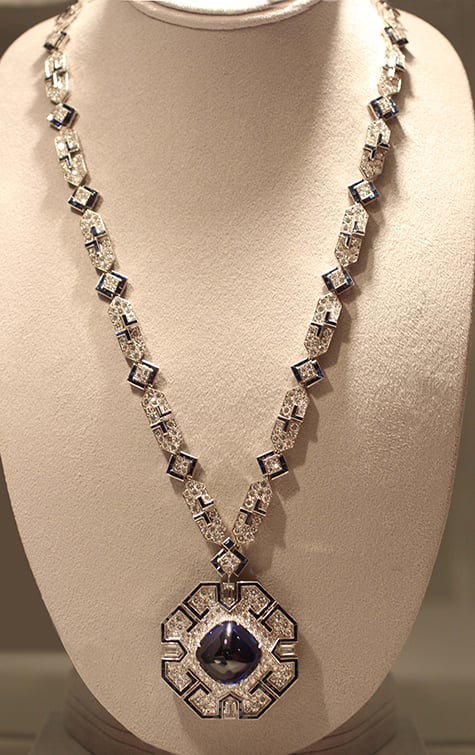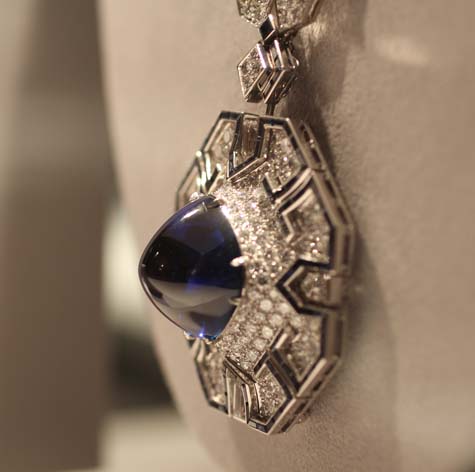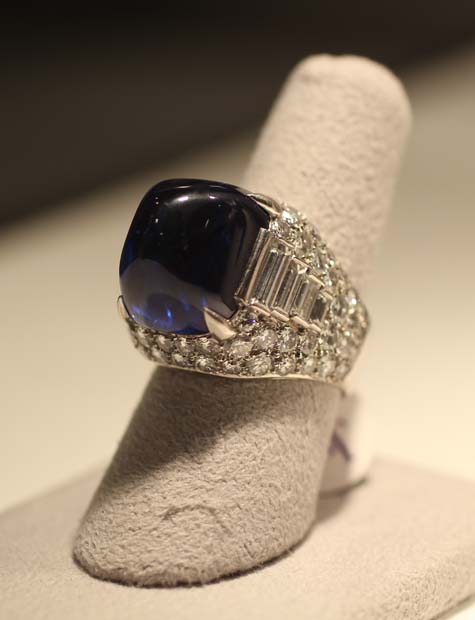 The Bulgari sapphire and diamond sautoir is set with a sugarloaf cabochon sapphire weighing 52.72 carats. The Trombino ring was added to her collection a bit later as the perfect complement to the sautoir. The Art Deco style sautoir and Trombino ring will be auctioned at Christie's Evening Sale on December 13, 2011 in New York.
Sapphire "Ball" Ear Clips by JAR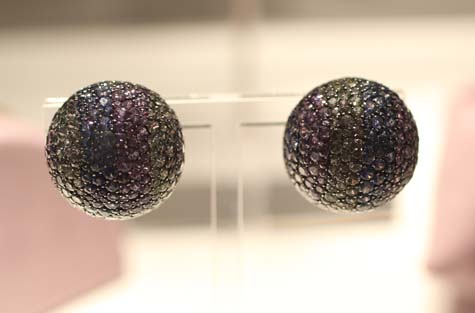 Designed by Joel Arthur Rosenthal, (known as JAR) these multi-hued sapphire ball ear clips are expected to fetch $100,000-$150,000 at Christie's Sale.
Jean Schlumberger Sapphire and Diamond Brooch and Ear Clips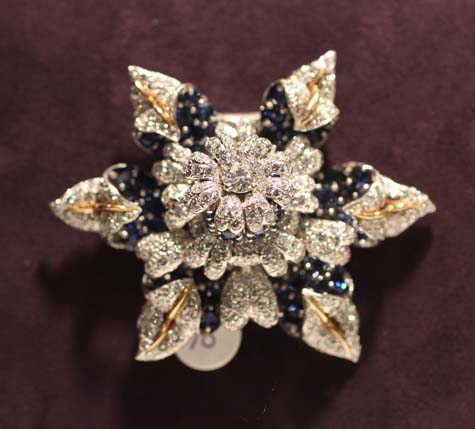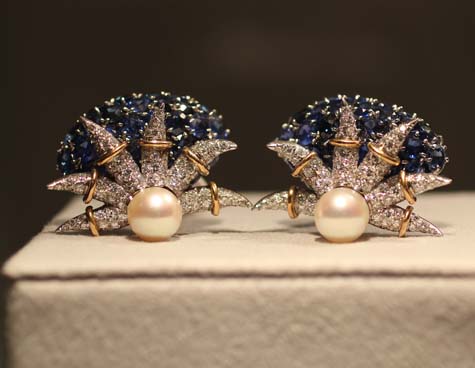 Designed by Jean Schlumberger of Tiffany & Co., the sapphire and diamond orchid brooch and starfish earrings have selling estimates of $70,000-100,000 and $12,000-15,000.
The King Farouk Bracelet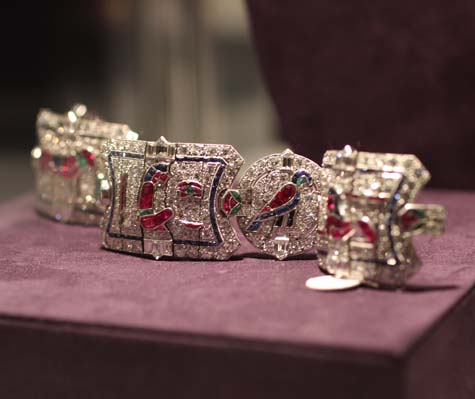 Made circa 1925, this Art Deco Egyptian revival bracelet is expected to fetch $500,000-700,000.
Art Deco Diamond Bow Brooch by Van Cleef & Arpels
Circa 1925, this Art Deco diamond bow brooch has a selling estimate of $60,000-80,000.
Antique Diamond Earrings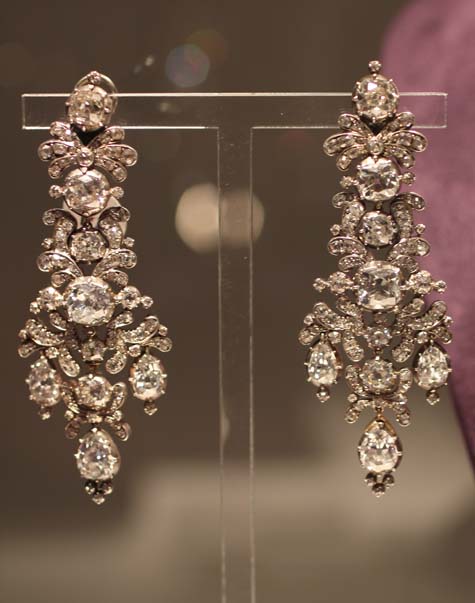 Are you with me old cut lovers? Breathtaking. This pair of antique diamond earrings will be auctioned at Christie's Evening Sale.
Diamond Earrings and Necklace by Cartier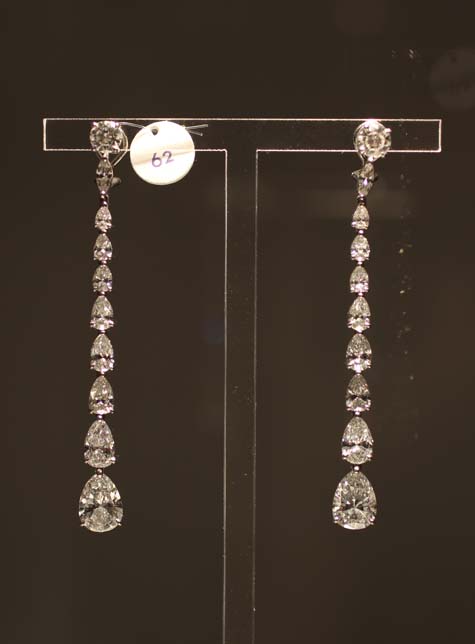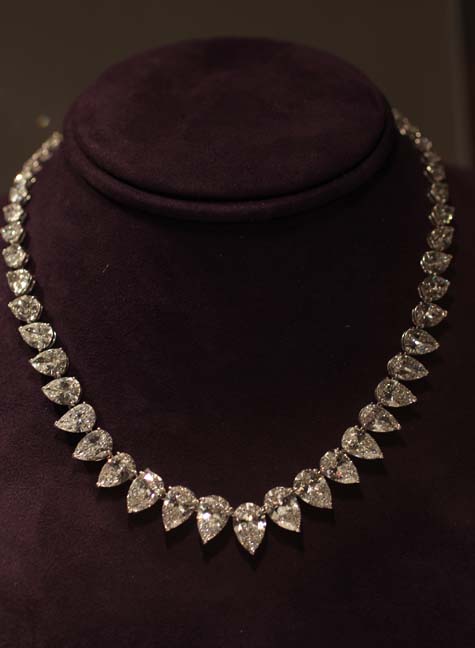 Elizabeth Taylor wore the Cartier diamond earrings (of her own design) to her 8th and final wedding at Michael Jackson's Neverland Ranch in 1991. The actress married construction worker Larry Fortensky and divorced five years later.
The "Granny" Necklace by Van Cleef & Arpels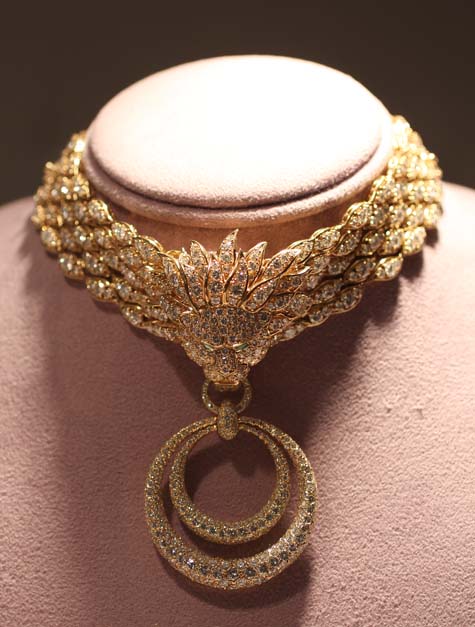 Elizabeth Taylor became a grandmother at the age of 39, so naturally, she needed a Granny necklace to mark the occasion. Richard Burton gave her the necklace and said, "Wow! You are so beautiful; nobody is going to believe you're a grandmother." The Van Cleef & Arpels diamond necklace is estimated to sell for $120,00-180,000 at Christie's Sale.
Yellow Diamond Ring by Bulgari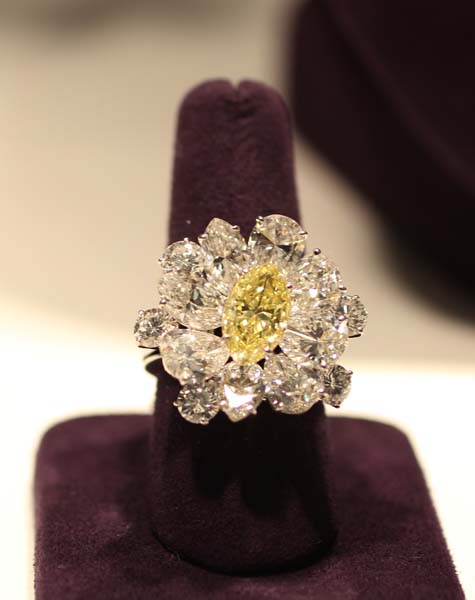 This Bulgari yellow diamond ring is expected to fetch between $120,000-180,000 at auction.
To see more of Elizabeth Taylor's jewelry collection visit:
Elizabeth Taylor's Jewelry, A Pricescope Love Affair – Part One