By Erika W.
Christie's is set to auction Elizabeth Taylor's most celebrated jewels including the Bulgari sapphire sautoir and "trombino" ring. The sapphire sautoir was a gift to Ms. Taylor from Richard Burton in 1971. The centerpiece is set with a sugarloaf cabochon sapphire weighing 52.72 carats. The Art Deco style sautoir is expected to fetch betweeen $600,000-$800,000 at Christie's Evening Sale on December 13, 2011 in New York.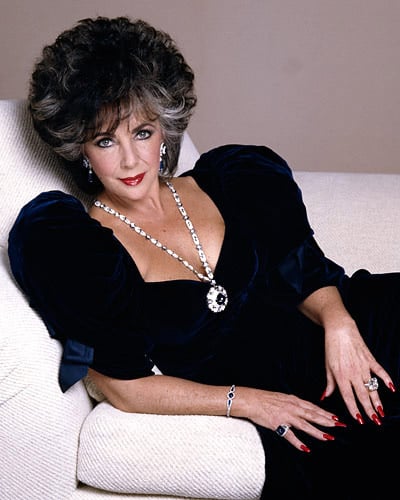 Photo: Terry O'Neill/Getty
1988 – Elizabeth Taylor wearing the sapphire sautoir, the sapphire "trombino" ring (pinky) and the Elizabeth Taylor Diamond (formerly called the Krupp) on her left hand ring finger.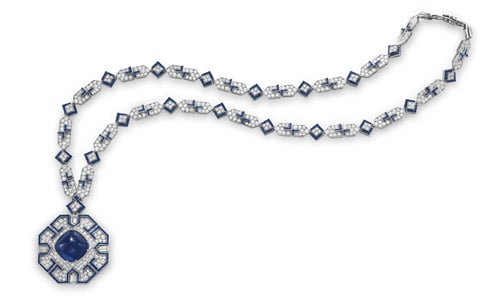 Christie's image (above) of the Bulgari sapphire and diamond sautoir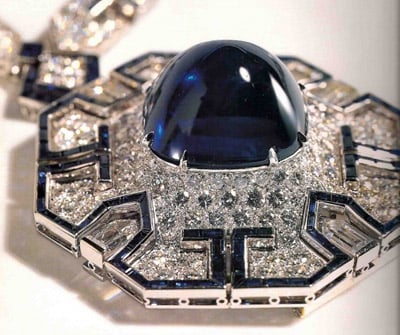 Related Topics:

Christie's to Auction Elizabeth Taylor's Jewelry Collection
Elizabeth Taylor Collection on World Tour – Video
Christies announces Elizabeth Taylor auction